-20%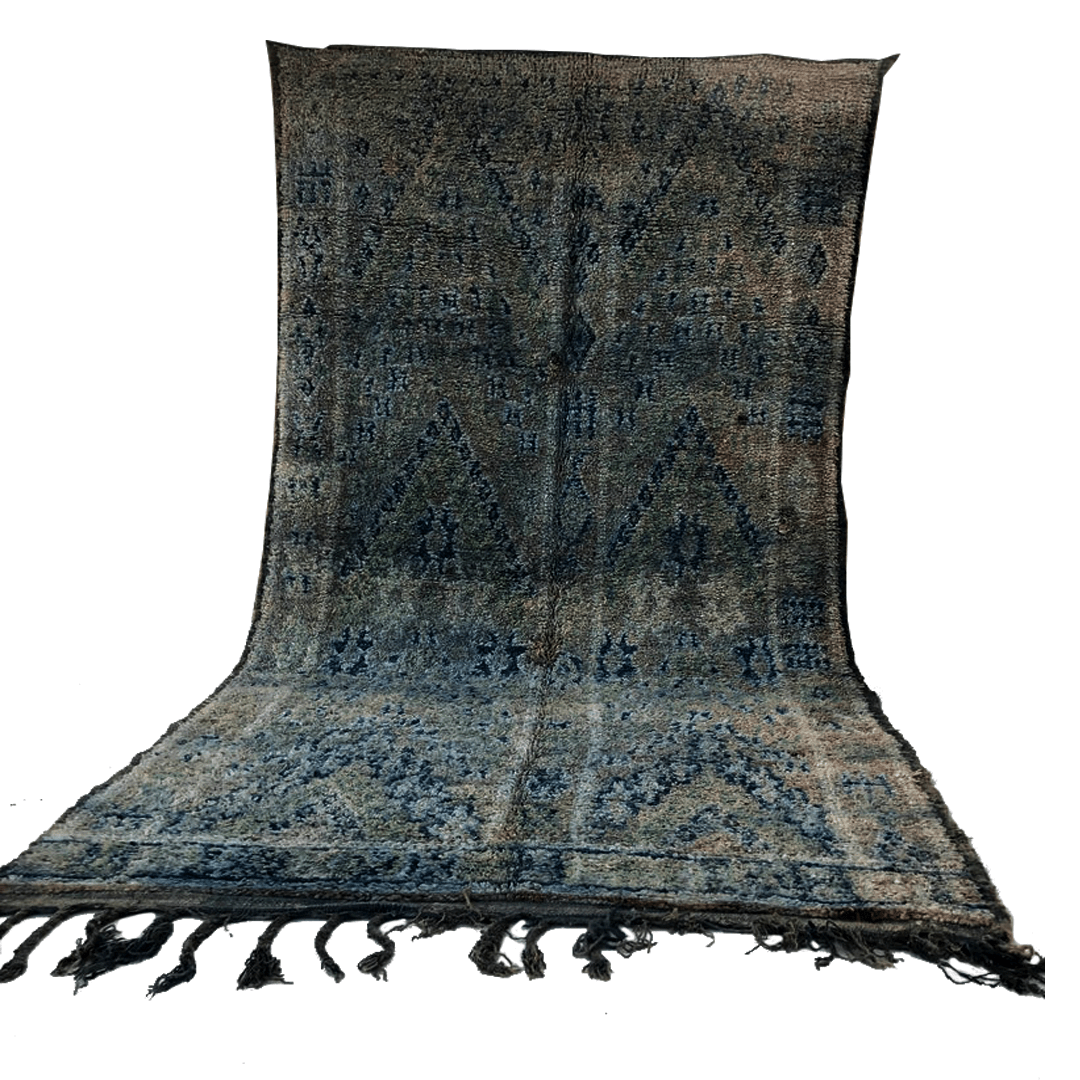 VINTAGE BENI MGUILD MOROCCAN RUG – 666104
Description
If you are looking for Luxury Home Furnishings with Aspiration, Self Pleasure, An Amazing Story, Personal History, Aesthetics, Premium Quality, Individually Handcrafted by some of the best Artisans in the world not mass produced & Conspicuousness – Read on
Beni Mguild rugs are known as the most berber rugs , Efficient protection against the winter cold in snowy highland areas.
Each rug tells the story of the weaver and symbolizes their life in patterns. The tribal patterns can tell stories of life, death, beliefs, appreciation or major life events. Traditionally the art of creating these rugs would be passed down through generation as mother would teach daughter and so on.
Beni Mguild Rugs are colourful pieces made from 100% pure wool
With distinguished tribal designs unique to each weaver. The colours were created from vegetable dye or by using threads of recycled coloured cotton materials. You will never be able to find 2 identical authentic rugs and each rug is a unique piece of art.
Authentic rug fully handmade from the 100% Natural hand spun camel wool. Made by hand and woven by the Berbers women of tribe in the High Atlas Mountains of Morocco.
The Moroccan berber rugs are luxurious and perfect for any room and decor, and could be used as a rug for any room or wall hanging like they are traditionally used.
Featuring a decorated abstract design with Berber graphics, every rug is personally chosen to offer you the most beautiful Berber rugs.
The Moroccan berber rugs are handcrafted by craftswomen and are truly originals, and no two are alike.
"We don't do 'art' – we solve problems" – Charles Eames
HOPEFUL BENI MGUILD; PRICELESS BENI MGUILD
Oriental products like luxury rugs have always been the main attraction for many creators and art lovers around the ever-evolving space of the art business. Waiting for visionary inventions provoked by thought are among the many things art observers participate in as they go art-watching. Perhaps something that draws attention to other things like sharing deeply impactful ideas in hope of ending world problems, but still having to do it in a world where it's unlikely the public will do anything to change things.
Money and technology threaten the very forward-nature that drives human civilization as it leads to favouring comfort above culture in the sense that not everyone is a lover of culture, but most people are lovers of comfort. And so, what the oriental world offers is a bohemian input to culture with the Beni Mguild; a luxury handmade rug so mutedly politically-charged that it's jaw-twerking how tone-deaf the world has become after the arrival of dominant media that excludes bohemian art.
Beni Mguilds remain some of the most fandom-attached products circulating the flying markets of the art world. It manages to be so universally present in the public consciousness for its more hip "ruggy" qualities that many have catapulted it to top-tier status, where it is among the major culture-hub products in terms of being one of them and being world-renowned.
As one of the great oriental countries still thriving in modern-day society, Morocco is nothing short of an ode to the regal old in the ways it celebrates its lush history as well as acknowledging its special eccentricities. Being among the few sources of tribal rugs in the world, Morocco offers the Beni Mguild luxury rugs to the art-loving sellers needing in search for a market that can grow and will be able to revamp the love for culture and muse. Its importance sings heartily true with the realization that humans are winning the war with mortality, and are placing hope in a blind-lead economy hungry for power in the money jungle where the consumer's comfort is of more importance than what the product can do for the consumer; where necessary information isn't exactly good information anymore, and that comfort in knowing everything is alright with the world drives us singularly to consuming, but ever consuming the wrong things. These Amazing Rugs have been associated with Luxury Home Furnishings.
What the Beni Mguilds bring to the public consciousness is more than just a product of beauty, and attraction, but also a purchasable sigil that shows that individuals stand on humanity's side. The luxury rugs offer us a window into a broad, but forgotten space of culture. Nobody wants to be forgotten, and probably, if it was personified, probably their culture as well. And so, in sharing the love of bohemia to the rest of the consumers, and introducing the importance of variety, and honest diversity to the market place in the art world, the luxury rugs rise to the status of so many important products of our time by being among the few that reminds us of the value of the old beyond the famous Mona Lisas, but suggesting there could be more out there to explore, and possibly more emotionally evoking, as the nature of the rug itself, placing faith in its unconventionality; hoping that it will gain recognition as something of importance, even though many people don't see it as such introduces a balance, a pang of wisdom wholly needed in the art world, and a priceless valuation which is beyond the stingy amounts of money you need to pay for a Mguild offers a compartment of common sense we can all drift into as we enter our bohemian homes, a building of solace most humans rarely get to be in touch with.
MGUILD ABROAD
Moroccan Berber rugs maintain a distinct hold of space in early and mid-twentieth century Western design. The rise of modernism that began in the earlier decades of the 1900s let the fore of designers being able to experiment with the abstract and existential, and the Berber rugs have become a quintessential rendition of a suffocating art style trying to hold on to relevance in fear that an ever-evolving globe would lead to much of humanity's accomplishments being a thing of the past.
"When they say we idolize fire,
even though it burns our throats
That we will still idolize strictly the comfort
When we find something better for our jobs
And safer too –- perhaps more elemental, like a golden lamb chop
Will the appreciation stop?
Because it is something not-emotional,
but would you even care if it was emotional anymore?
And will we forget how useful it was to us, as a collective –-
helping us discover the good kingdom, because your money speaks the law?
So, we shower in the fire, and we bathe in the dragons for needing change?
The world has no change to make decisions
Healthy chickens need feeding for your exotic belly islands,
only the changeless have the tasty kinds,
but the tasteless owners have the cash for feed
Where exactly is worth, money-man?
In your companion, or in the object of greed?"
– Aventador Xani
Over the unfolding of the 20th century, individuals of the art world have taken notice of the symbolic nature of the rugs, and have perpetuated it into a grand and looming status of peak artistry. The designers Charles and Ray Eames were amongst the ones wielding the torch of fine interior living by offering a meshing of ideologies where their hip designs and widely used products fuse with the hip of the bohemia by designing one of the most important symbolic gestures of comfort and right life-style living in the art world today with their home in the Pacific Palisades, California, and it's a shame that many are missing out in favour of the economic triangle doomed to favour comfort over natural evolution in favour of the infinite influence of the past for a more refined society forward. It is not that the products are famous because they look weird, or different, or hip, but because in that varied nature, they carry an important story of which their nature makes it wholly unforgettable, and their price points make it wholly important. If you are looking for Luxury Home Furnishings there no better place to start than with these Amazing & Beautiful Handmade Rugs.
MGUILD MADE
Beni Mguild luxury rugs are fruited in the Western Middle Atlas Mountains. The difficult winter climate in this region airs why the rugs are made of thick and deep pile wool from the in-territory bred sheep. During the summer months, it is common for Berbers to change the side of the rug from the furry top, which is the main attraction, to their flat side when the summer heat strongly looms in the Moroccan territory, too close to the heat of the Sahara. Often, they are kept from floors, and so couches, tables, and new-world products like refrigerators are marked with the luxury rugs are widely considered a symbol of artistic unity, where the old and new exist as being of equal importance.
Beni Mguilds are distinctive from other luxury carpets in their experimental visual design. The features imprinted on the Mguilds are simple geometric diamond shapes against bold coloured backgrounds of dramatic reds, cooling greens, sheer blacks, royal purples, true browns, and shaded blues. The luxury rugs take inspiration from flatweave rugs instead of foundational design to create pile rug patterns, but the creativity goes to take hold beyond the object, as the art transcends it by acting on the object of attraction, and the important politics around the rugs drive art into the forefront as one of the more important professions currently fuelling the future of civilization. Many regard Moroccan rugs as Luxury Home Furnishings.
MGUILD UNPAST
Moroccan carpets were weaved primarily by women, and that remains the custom to this day. Berber women utilized the rugs in their own homes from a decorative standpoint, as the flowered rugs would flower seat covers, bedspreads, and even blankets during the coldest months, and in the most fashionable; hip homes.
Visitors drawn by the allure of Berber vintage rugs of every hue understand that women control the art-nurturing politics of the Beni Mguild, and inside this area of large handmade rugs, women rule.
Moroccan carpets are full of symbolism and often tell the story of the women who created each piece as the rules of writing get gobbled up into abstract expression, and because skill and true story are not things that can be copied, the physical pieces break barriers in the sense of individuality as being truly one of a kind.
Beni Mguilds, unlike many other modern handmade rugs or many other luxury Moroccan rugs stacked on each other are like ledgers filled with stories. One discovers there is a universe of thought based on a palette of ingeniously 'unhinged' colours. Berber women living in the bucolic regions of Morocco appropriated textile creations as a space of unregulated expression where they have developed a ritualistic artform wherein places where the world can be twisted and made unclear, the Beni's make their general unclarity clear as they represent the fear that comes from losing the reason for having something important exist. Those consumed by the confusion of whether God exists or not know this all too well.
Atlas Weavers of Moroccan luxury rugs utilize dichromatic, geometric, abstract palettes of colours, and from the basic ones to the most vibrant hues; and in sizes of all manners – cerebrally taxing and emotionally impacting.
Carpet weaving has been part of the cultural fabric of the semi-nomadic Berber people of North Africa for centuries. Their rugs and tapestries thrive on imperfection — with crooked lines and asymmetrical compositions that are both geometric and soulful, minimalist and lively; basically, bohemian super feed.
MGUILD A CONSUMER: CONSUME MGUILID
Beni Mguild rugs are luxurious and perfect for any room decorator looking to make a statement about how valuable the individual finds the carpet world and all its products, and could be used as a rug for any room or wall hanging. Creatives take it up a notch from the way they are traditionally used, and place them in more unique positions, insisting that they change the placement of the rug to maximize the kind of use they individually find of the Beni Mguild rugs, and many other luxury rugs of the same nature from the Moroccan oriental regions.
QualityHandcraft has an extensively diverse selection of the highest quality handmade rugs of the Vintage Moroccan Beni Mguild Luxury Rugs available to purchase for extensive educative and comfort reasons – that makes them a reasonable product. Have one for yourself or have someone have them as luxury gifts. Get your staple modern designer rugs and modern handmade rugs online. Vintage Persian rugs can also be purchased from here, and a lot of traditional Persian rugs are on for sale at peppery prices, among other Persian rugs for sale.
Featuring a decorated abstract design with Berber graphics, every rug finds a personal fandom that propels it to the popular culture scene. The Beni Mguild rugs, like other luxury rugs possess decorative flexibility and may be used at any corner of your home to give the perfect antique touch to your place.
In an increasingly digitized world, the handmade charm of Berber Luxury Home Furnishings injects much-needed tactility into home interiors. It has become a sort of unsung plea that vintage products like luxury handmade rugs ask for a place to be remembered among the more appreciated products, and perhaps the only way that that can be achieved by the products at the moment starts with the women who chose to make the Beni Mguild an enigma in the realm of luxury-rug love. It's not standing for anything specific or explicit, but for something so easy to not see if you're not paying attention, and for the few that can pay attention the nature of the rugs allows for communication to exist between the passionate and the ignorant — to help correct many of the wrongs that have been performed on many rugs because they are inanimate. And if it can happen with art, something so important to us that valuable pieces can be sold for millions of euros, what else of importance to us can suffer the same fate as rugs because we failed to see use. It is important to realize that to look for use is the only dignity we can give things we don't understand as they can turn out to be of immense value in the future. Art is a plea to awaken. Will you awaken from a divided society, and face an important civilization?
Vintage Still Strong in the Digital Age
There are many vintage rugs of vastly different variety available to purchase, and Moroccan rugs really seem to be one of the rugs dominating the rug species currently on the market as art pieces that you can take home and snuggle with however long you want. It's really a lot of stuff, and often people are shocked at how much variety and impressiveness is available in this really vast crunch of unique products circulating the home decor market, and even the high art market, really — some rugs are priceless assets that have been owned by some of the wealthiest and famous individuals of all time. Take carpet-seller Amber El-Amin's carpet collection for example. Those Luxury Home Furnishings are priceless, chic and look incredible in her home's rooms, and although there are other luxurious goods to tie her rooms together, the rugs do a lot of good work with pulling off the vibe. Ownership status is great for the value of rugs, and can really help sky-rocket the price of these rugs — such that, when they're resold, they cost staggering amounts of money.
NFTs represent some of the fears that have arisen and burgeoned in communities and spaces where tangible art is adored. With the digital age seemingly taking over at really fast rates, it is a very real issue when material value isn't what is of worth. It's all about the visuals these days, and that is why paintings are thriving in the digital landscape without much trouble, but more physically appealing products like sculptures are met with less demand. Take the astonishing works of Simon Cowell and Irina French as artists who are getting much success with digital art as examples. Luxury Home Furnishings will need to find something that stabilizes their relevance. Soon enough, history might be a bigger defining factor of a painting, and not ideas, and the extent of usability is the only way that they can ensure they stay as relevant and valuable as possible. Remember this, unless it's something you need, you won't really care about something you lost last year that much, but you'll cherish that which you lost in 2008, and maybe you'd make something you didn't know in 1369 more valuable than anything else you own because that's something special. In that way, not everything is special, something needs to change, we need to find a way to make everything valuable, or we'll have to enter a world where we need to struggle to be treated as important.
The craftspeople responsible for Moroccan rugs did struggle because they do know this truth, and the fact that those rugs are in many posh homes today, many surely are in the houses of the people who own NFTs. It's important to remember that earning a right to be of value is a contributor of great value because the value-game is rigged, and that means that Moroccan rugs are a triumph unlike all else because our values of the past are being replaced by the digital world, but should we really be ready to discard one art form because there is a more convenient art form outside the one we want? Is it possible that an artist outside the digital world could have used the digital world to make something valuable as well, and succeed? The best consumers could do is give artists the dignity of being contemporary, even if they're vintage.
Surely Moroccan rugs are famous for some reason you are eager to know about, and simply, that broad attractiveness stems from the unreal variety of Moroccan rugs and all the special stuff in the design that they have to offer. Moroccan rugs can be classified because the Luxury Home Furnishings usually have themes that are really indicative of the Moroccan rugs brand, and is the thing that creates much distinction that defines the differences between one species of rugs from another. Moroccan rugs will never be Persian rugs, and that is why a person can like one species more than another, and for a long time, that has been the sole law automating the governance of the art-consumer system that allows for the Luxury Home Furnishings to come to prominence as individual pieces — with an extreme focus on improving on a style — and not trying to be what it's not. This has pushed creativity forward.
Vintage rugs have an inkling of taking inspiration from Venn diagrams as it is common to see some unique Moroccan luxury rugs take inspiration from other Moroccan Luxury Home Furnishings that are already in wide-spread existence. These Luxury Home Furnishings offer a unique mix of characteristics that are unique to Moroccan rugs and are utilized in a manner that's original but different enough to offer something captivating that can draw new blood into the consumer circles, but can also manage to keep the people who always enjoyed Moroccan rugs ready to explore more of what they can purchase.
The Beni Boujads are often considered to be the magnum opus of Moroccan rugs because they really do utilize the Venn-diagram feature of Moroccan rugs to create a line of rugs that extensively takes inspiration from other kinds of rugs to create something that is more consumer-care forward. The rugs are smothered with colour. Often, beyond the visual designs, the value of the Luxury Home Furnishings is determined by the number of knots per unit area. Those with larger knot counts take longer to make and are regularly of more value. Beni Boujads aren't an exception to this knots rule. Beni Boujads are visual stunners, and that is because they utilize quite a lot of colour in their visual design, and that is why the colours saturate as much spaces on the rugs with colour, and that is because the craftspeople want to fit in as much of their vision into the piece as possible. Sometimes, not as much space is needed, but many more times, most of that space is utilized to create something wholly beautiful.
The vintage rugs with a Moroccan minimalistic style are among the most popular Luxury Home Furnishings from the Moroccan-rugs line. These rugs are usually utilizing monochrome shades with some use of even more varied colours in smaller sections of the composition to achieve an effect that is both elegant and impressive. Take the Beni Ourains' surge to popularity. The Luxury Home Furnishings are notorious for utilizing monotone colouration, and in this way, they become the perfect mainstream product because they're simply elegant and not in search for anything immensely impressive, instead they get viewed as the laid-back and cool designs that are irrespective of much of bohemian culture, and impressively so by still being able to be part of the system that makes Moroccan rugs the brand it regards itself as today.
There are some rugs that harbour a lot of attention because they utilize symbolism. This creates an opening where the Luxury Home Furnishings can be encouraging something that a consumer might be needing reassurance on, and can be the things to provide the place where consumers want to pay attention. There are Moroccan rugs that are explicitly known for their obvious utilization of symbolism, say the Azilals, and they seem to thrive with consumers looking to discover something about themselves by adopting bohemian culture.
That is to say that the irregularities of bohemians might be a self-reflection where there is not much linkage with the mainstream. That cleavage means they get to learn so much about themselves without the interference of the roaring markets, and they develop and possibly arrive at a place within themselves where they get to live their ideologies in the tangible world, where descriptions are no respecter of locale.
There are some rugs that really take the idea of abstract art to the next level. They create a whole culture around the importance of inclusivity and the fact that beauty and big value can be found in some of the most unexpected places.
Boucherouite rugs are a colour fantasy, and really, no one would dare roast these because they seemingly carry so much heart and love in their abstract designs that it shocks people how random patterns can be so moving that they evoke feelings of emotional-unity. They are often super messy, so don't expect anything like minimalistic rug, really know that those kinds of rugs are utter opposites, and you'll have a great start at finding the rug you're looking for.
Urban Carpets are a beloved entity of its own. These knots are adored because they encompass so much that meets the expectations of those in favour of contemporary ideals, and that just happens to be a majority of the global population. Urban carpets are usually taking the form of styles of vintage rugs that are very popular and they often have a twist to them that makes them super trendy and pro-creativity. The Beni Mrirts are the newer style of Moroccan rugs that embodies all the major urban carpet features.
Vintage Moroccan rugs are the Luxury Home Furnishings from Morocco of origin in the mid 20th century and are renowned for their beautiful and unique approach to patterning and weaving to arrive at bold art works.
This has made the products among the most defining of the modern carpet world, but also the vintage carpet world because they do take inspiration from a lot of what was trendy in the past and have improved on all the things that make the rugs such people-drawers. These rugs are often fabricated to last a really long time. They can last 25-125 years, but that depends on how well they're taken care of, and each rug requires a different process. Often, the vibrant colours age into pastels that are just as pretty, if not better. The Luxury Home Furnishings that are with visuals that are getting more pastel are usually priced higher because of this.
In a world where the digital landscape is a thriving phenomenon that keeps on attracting more and more people towards it and away from tangible value. People are learning how to not live with clutter, and that can be something of contention to luxury tangible goods because in the modern world, something real and tangible isn't essentially something that has worth, and it says a lot about where beauty lies — it is no longer either with the object or the beholder, but it is with the person with the power to control a conversation. This whole dynamic raises issues on whether beauty and art need to be defined or whether the gamble to trust that to be a decision of things can be made by other for others. It is important to take part in a conversation, and to fight for what you believe to be right because enabling is essentially taking power away from the things that are of value to you the most. This is essentially why cheating is so frowned upon in the art industry, it doesn't allow for transparency as other voices that had the right to speak suddenly lose their ability to influence. Moroccan rugs have found an interesting way to deal with this dilemma.
Consumers' Section
Vintage rugs have always been popularized because they come in stunningly different varieties. The broad variety has allowed the Luxury Home Furnishings to amass a large number of rug-lovers because there is something for everyone in the assortment of luxury rugs. The best way to experience the rug community is by finding a place where rugs are sold but includes the right amount of variety with a great selection by a person with superb taste, and it all comes together to create a cool vibe of the Luxury Home Furnishings' assortment that can make exploring the rug communities, symbolism around them, and their history an exciting excursion for anyone looking for something fresh to value.
QualityHandcraft has a humungous selection of the highest quality handmade vintage Moroccan Berber rugs available to purchase as luxury gifts for yourself or others. You can also buy luxury handmade rugs online like vintage Persian rugs as well as modern designer rugs and modern handmade rugs from their assortment of designer rugs if you have an unquenchable desire to acquire more, however, there truly are no social limits of ownership as some homes have dozens in intimate spaces alone. There is a huge number Moroccan handmade rugs there on the website available to buy, and even baby-size, but cute handmade rugs that are wholly themselves in their anti-libertine style and they are available for you to buy online.
In the rug community, there is a lot of to choose from, and all this has made it a very overwhelming process because many find that they have a hard time choosing the perfect rug for them — of very stylish and intelligent works of art. The solution offered is for them to learn about all the different types of rugs available for purchase before they go shopping. There are designer rugs, modern handmade rugs, large handmade rugs, modern designer rugs, and even vintage Persian rugs for sale available, and the
Persian rugs in particular know how to acquire the largest price tags, and are widely considered among the most famed and expensive types of carpets in the world, however, only the traditional Persian rugs are usually the most expensive, but that's not to say that other kinds of rugs don't deserve any love. Status doesn't equal value and you might be shocked about how some rugs might be of more value to you than Persian rugs — well that's for people who don't care about status, and if that's you, Moroccan rugs are something you absolutely need to look into.
These one of a kind Luxury Home Furnishings Moroccan Handmade Rugs made by some of the best Artisans in the world will bring delight & history to your home.
"You Only Expect Greatness" Buy Now
Additional information
| | |
| --- | --- |
| Actual Size | |
| Age | |
| Color | |
| Sizes | |
| Color Family | |
| Colour Family | |
| Condition | |
| Country of Manufacture | |
| Custom Collection | |
| Size Range | |
| Design | |
| Pattern | |
| Pile | |
| Foundation | |
| Rug Type | |
| Style | |
| Shape | |
| Knot | |
| Weave | |
Rotate your rugs frequently to equalize the damaging effects of the sunlight. Continual direct exposure to sunlight will damage a rug over time, use window shades, shutters, or heavy curtains to safeguard your investment.
Protect your rugs from Fumes and Dampness from furnaces, stoves, chimneys and auto exhaust can mix with humidity in the atmosphere to form an acid that fades and deteriorates the appearance of wool. Over time, dampness will rot the threads and destroy the fibers of a rug. Keep them in a dry environment.
Wear and tear If a rug is cut or torn, have a competent person repair the damage as soon as possible. Holes can expand very quickly and ruin an otherwise repairable carpet. With ordinary use, the selvage edges tend to fray as they are not as compressed as the rug pile. Worn edges can easily be re-darned. Fringes can be replaced. Worn or damaged areas in the middle of a rug can be re-knotted. Even large holes can be restored.
Moths can cause extensive damage to Oriental rugs; however, a carpet in normal use is rarely in danger from moths. Frequent rotation and regular exposure to light and air usually keeps moths at bay. Eliminate these pests and safeguard against their return by spraying the front and back of a carpet every six months with moth spray.
Padding an Oriental rug the life can be doubled with the use of good-quality padding. Padding protects the rug, especially in heavily-trafficked areas. The best padding is made of hair or fiber with a rubberized surface to prevent moving and wrinkling. Avoid synthetic pad that takes on the appearance of rubber as it turns to an abrasive powder after several years.
Cleaning The beauty and life of Oriental rugs are vitally dependent on their cleanliness. Lack of maintenance will contribute to loss in the potential investment.
Sweeping the rug with a broom at least once a week removes loose soil and brings out it's natural sheen
Beating is one of the best methods for cleaning a rug. It should be beaten several times on each side, always in dry weather.
Vacuuming Try to use a low suction level and a new bag. Never vacuum against the nap, as this presses dirt back into the rug. (Run your hand across the pile from fringe to fringe to determine the direction of the nap.) Do not vacuum the fringes. The suction of a powerful vacuum cleaner can tear the fringe.
Washing Oriental rugs should be washed every three to five years, depending on their use and the amount of traffic they endure. Using steam-cleaning or chemicals on an Oriental rug removes the natural oils from the wool. The pile becomes brittle, and the carpet wears out sooner. Do not, unless absolutely necessary, submerge an Oriental rug in water. Surface cleaning is usually all that is required.
Crushed pile Revive carpet pile that has been crushed by heavy furniture by brushing the indented area with a soft brush. Moisten with a spray bottle, and brush again.
Storage If a rug must be stored, it must be inspected regularly. To store a rug, wrap it in fabric. An Oriental rug needs to breathe. It can rot or mildew in plastic. A rug can be rolled up and stored in a chest with some paradichlorobenzene crystals, which make the wool inedible to moths. DO NOT lay carpets flat on top of one another for any length of time. A rug stored in a damp or humid area will mildew, which discolors and weakens the fibers. A hot or poorly ventilated storage area will dry out the base of the rug, making it brittle, destroying strength and durability. If you act immediately, you can prevent virtually any spill from becoming a stain.
We always recommend that you use a Professional Rug cleaning Service as a safe guard in protecting your Rug.
Shipping & Returns Guide
– We provide Local, Nationwide & International Shipping via DHL / UPS with a delivery time of 5 to 7 days from our suppliers in Morocco subject to availability.
– Customers are liable to any import or customs duties on arrival of the rug in their country. Please refer to our Refunds, Returns & Exchanges Policies section for further details.
– You will be responsible for all return shipping costs with the same courier you received the rug(s) with.
– In case of a return, you are liable to pay 5% re-stocking fee for internal company expenses such as handling, accounting, banking and other associated expenses.
– We operate on very low margins, hence we do not encourage customers to adopt a """"buy to try"""" approach.
– If you receive a damaged item, QualityHandcraft will assist you in receiving a replacement or refund as quickly as possible – at no cost to you.
Reviews

BETH
Found this stunning Vintage Moroccan Rug – Absolutely Beautiful – Packaged well & arrived few days earlier – EVEN BETTER

Paul
Quirky, unique, cool…. Quality is good if you are looking for something different – Exclusive Premium Tamegroute Pottery – Petit Bol Abord Brun with Designer Copper Rim – 30% More Highest Quality Green Glaze

Joan
Lovely bowl arrived today! Love it. Thank you for the awesome packaging!

Clare
Beautiful handmade vase that looks fantastic in my room – Unique Elegant Handcrafted DEUX OREILLES SURAHI Tamegroute Green Glazed Pottery

Sara Kidd
Absolutely stunning! Even more lovely in person. Super fast shipping and my order was packaged so carefully and thoughtfully. Thank you!

Nesrine
Looove it! Super fast shipping

Summer Rayne
Arrived safely and in great condition.

Kaisa
Thank you so much for the beautiful bowl. It is just perfect. And thank you for the lovely gift. I really love it.

Molly
Super well packed, feels heavy and solid in your hand. Color is especially lovely. Would order again.

Lara
After many weeks of searching, I found this lovely rug, I asked the seller for more pictures and they were kind enough to send me a video of the rug from a few different angles. Beautiful colours although a bit lighter than the photos shown. Overall fantastic quality and super fast shipping (it actually came a week early), just wish it was a little darker.

John Sullivan
These guys have been absolutely outstanding. Perfect and the best of all that you have many options to choose! Best Support team ever! Very fast responding! Thank you very much! I highly recommend this theme and these people!

Danielle Gregory
Amazing Customer Support – very good, no waiting around. Immediately solved my problems and answered my questions when I needed help. Are to be congratulated.