-20%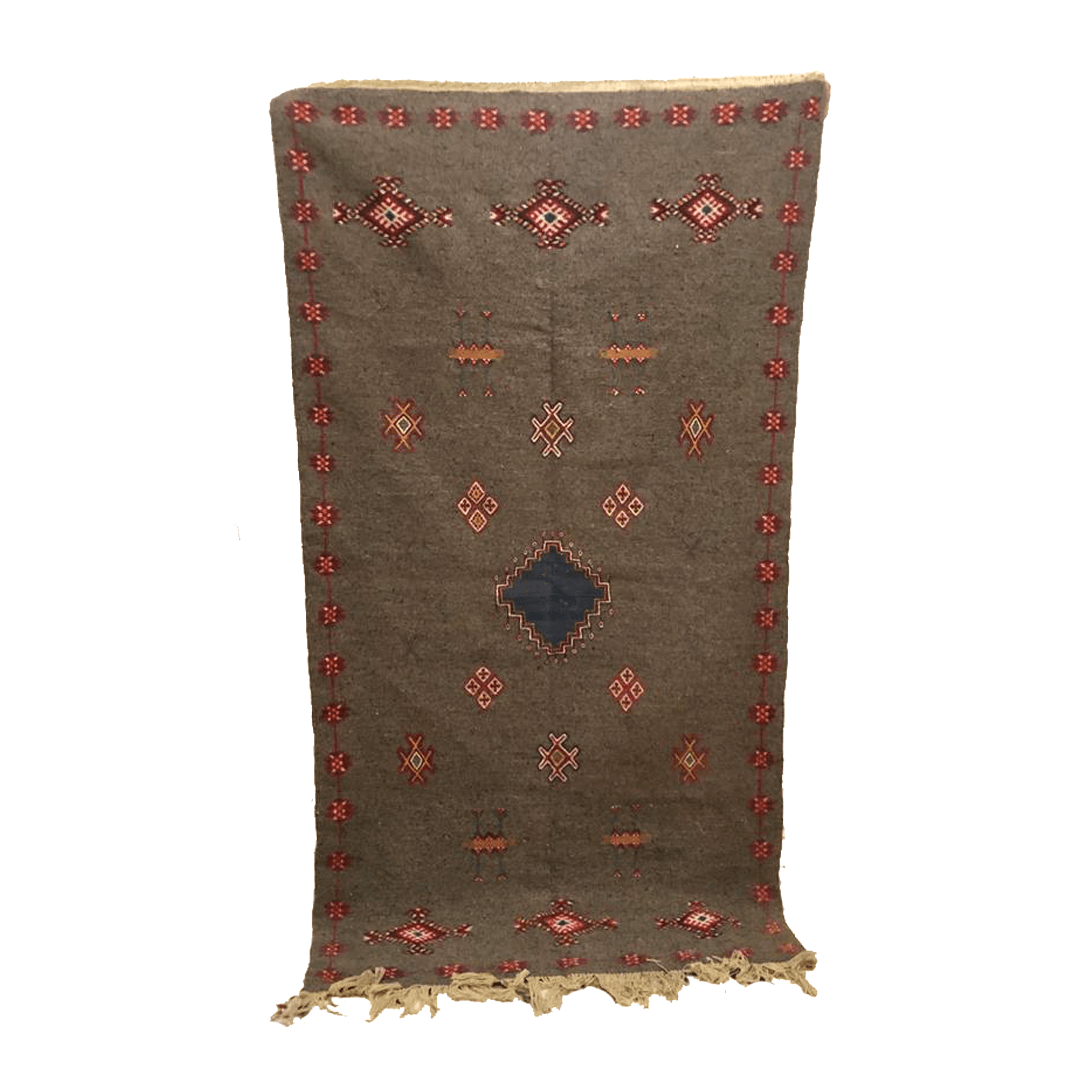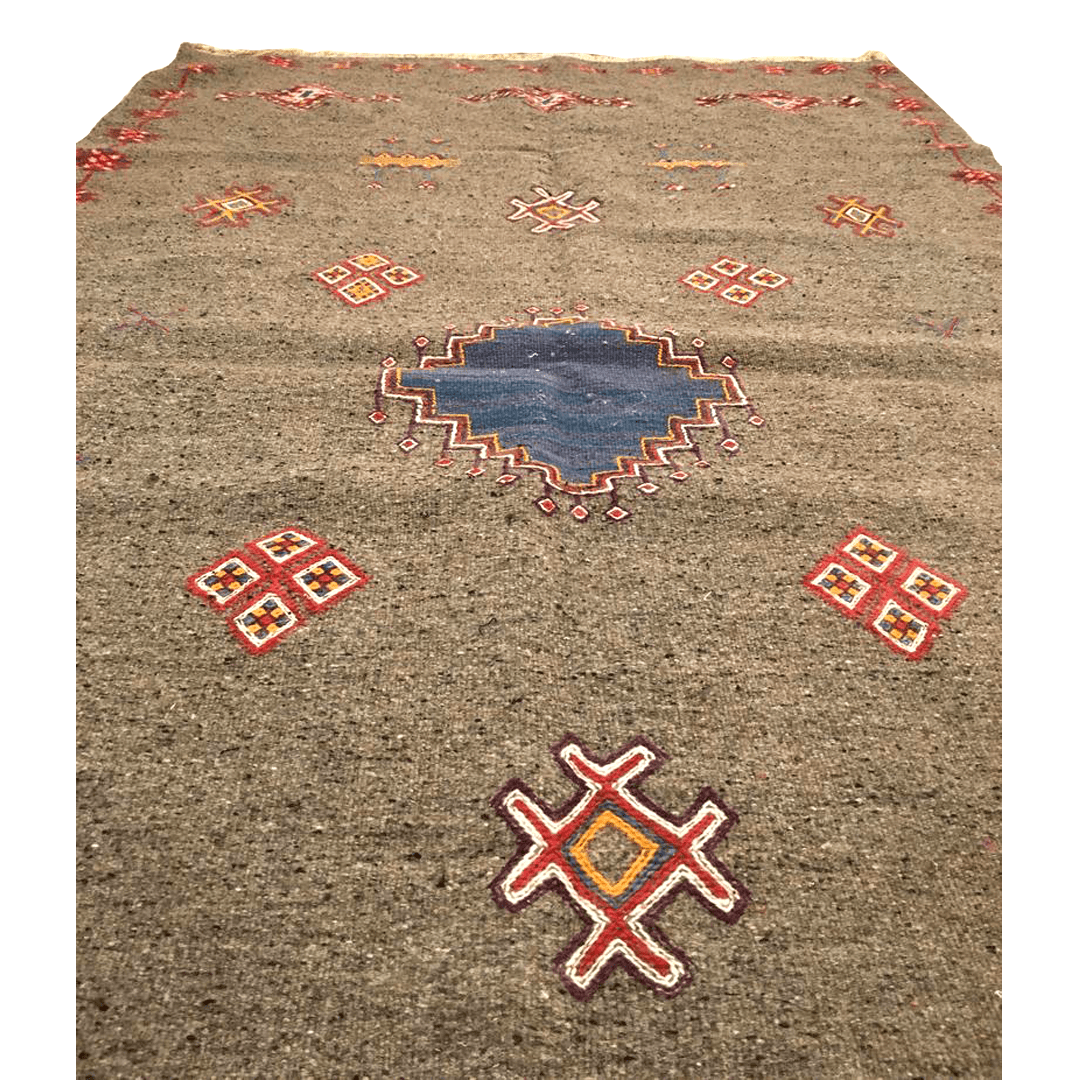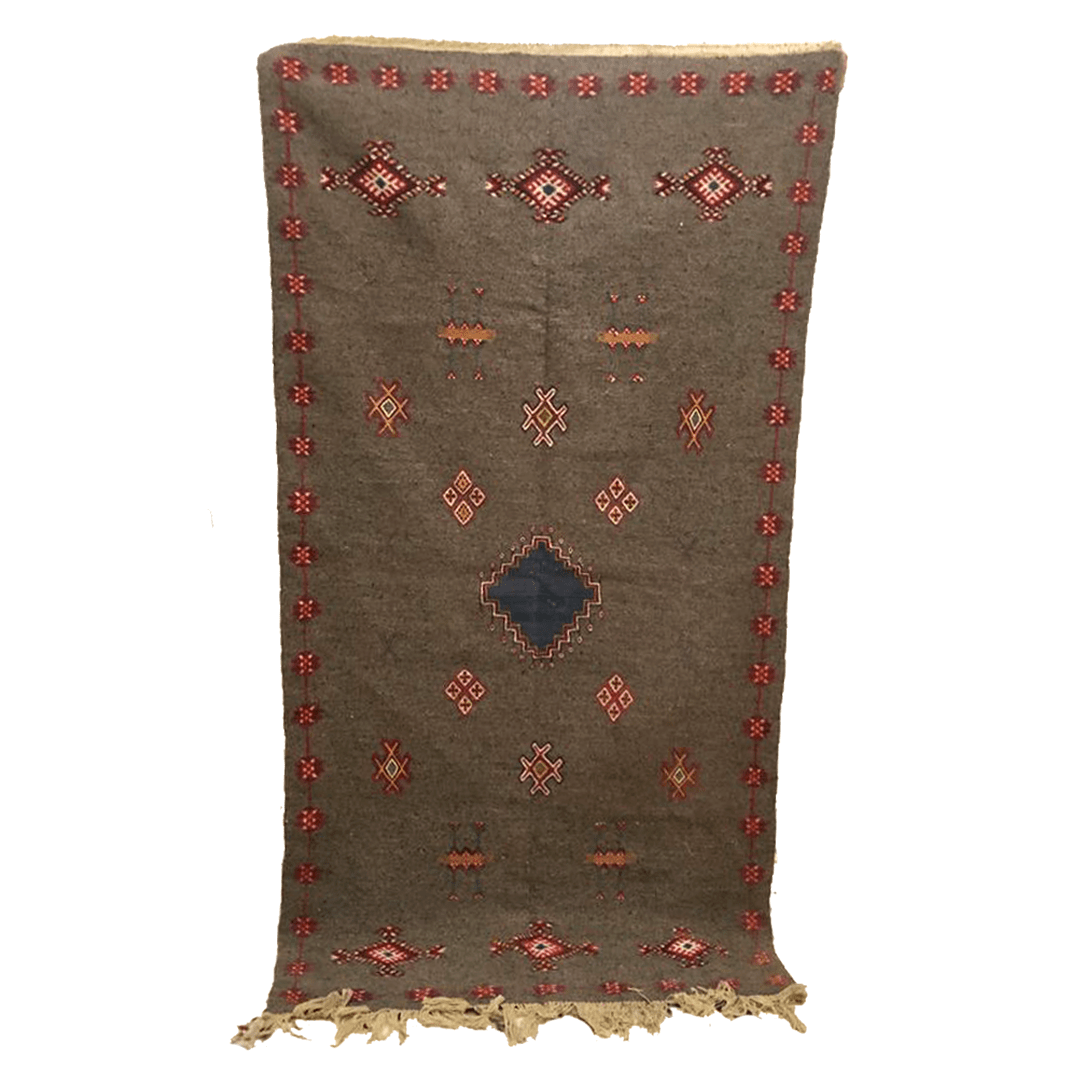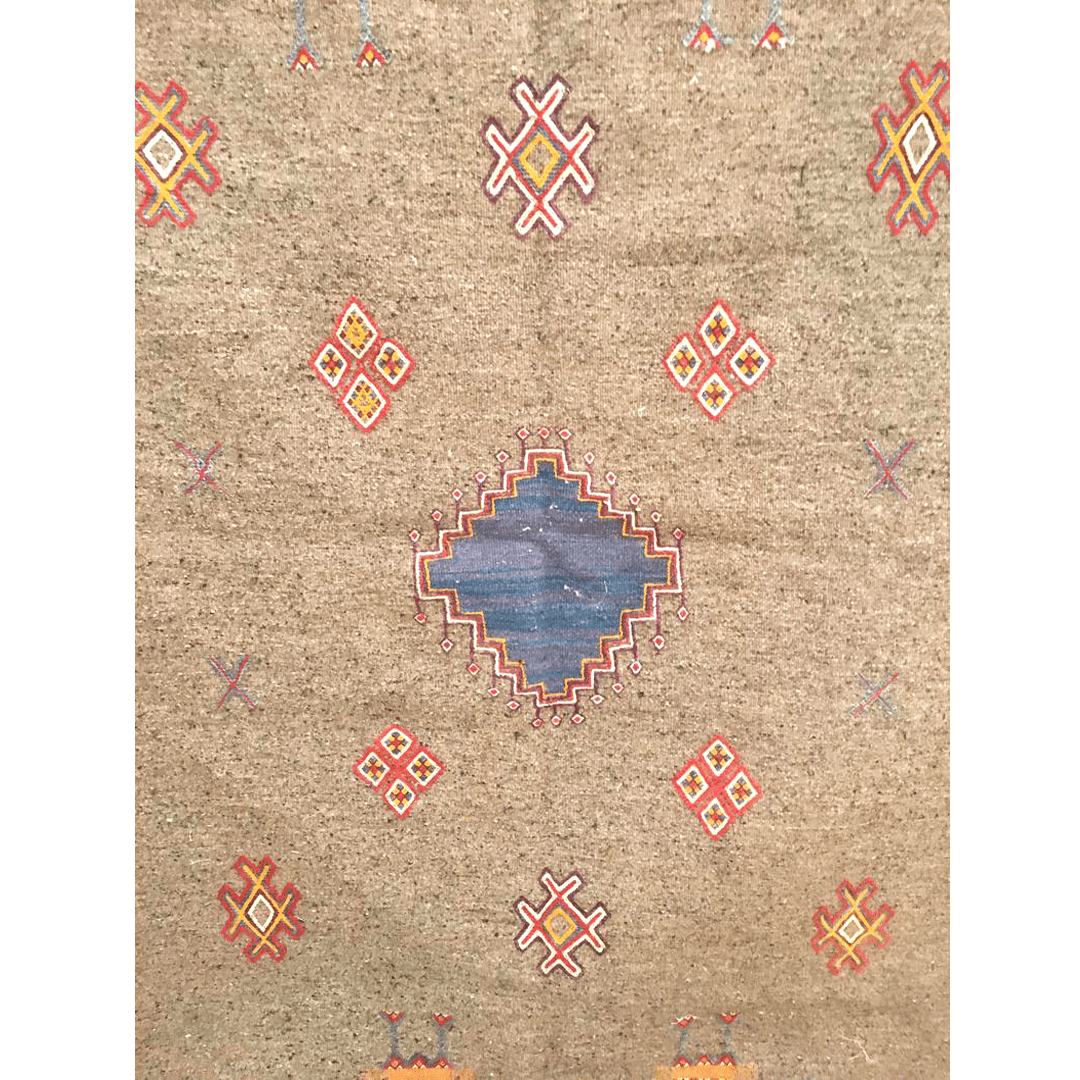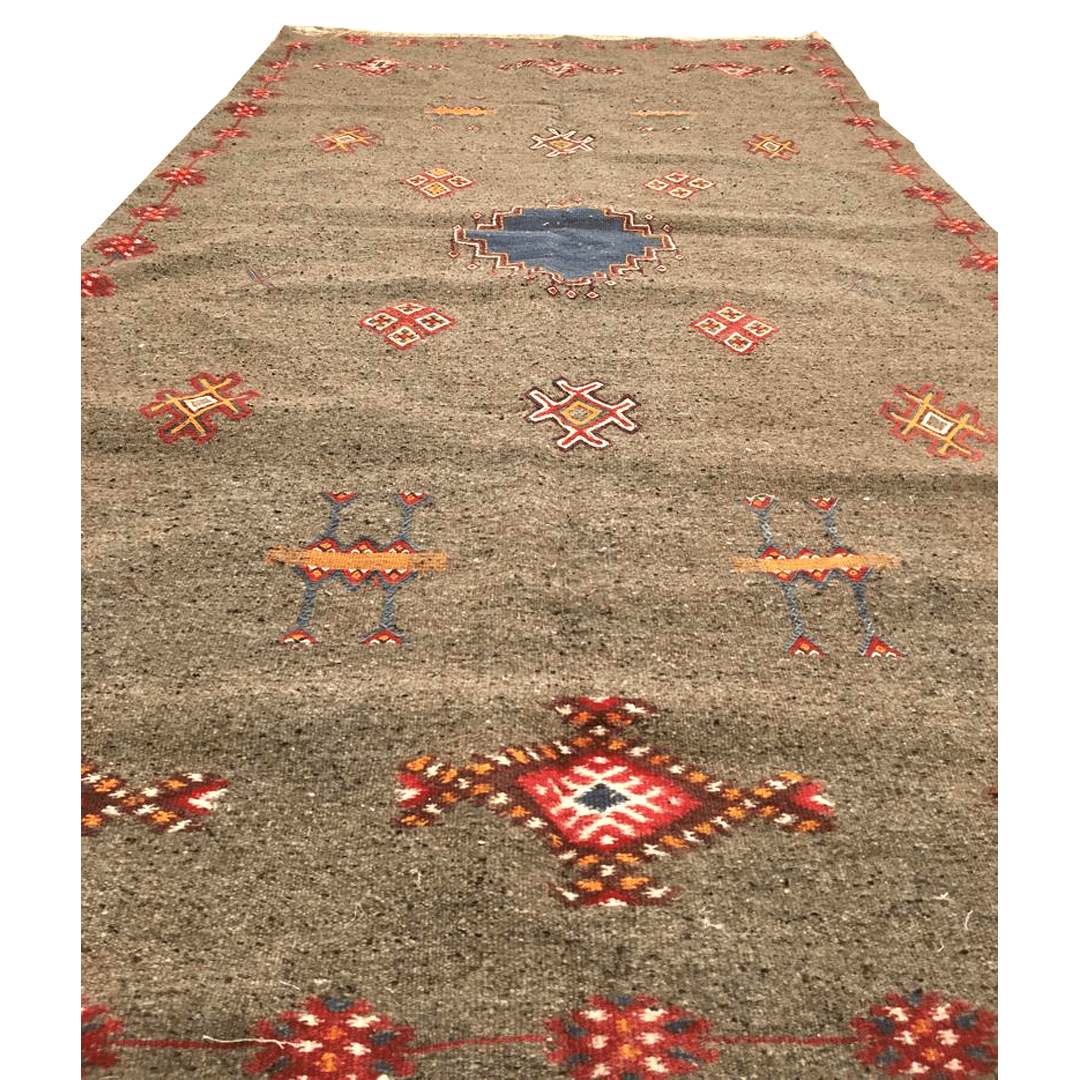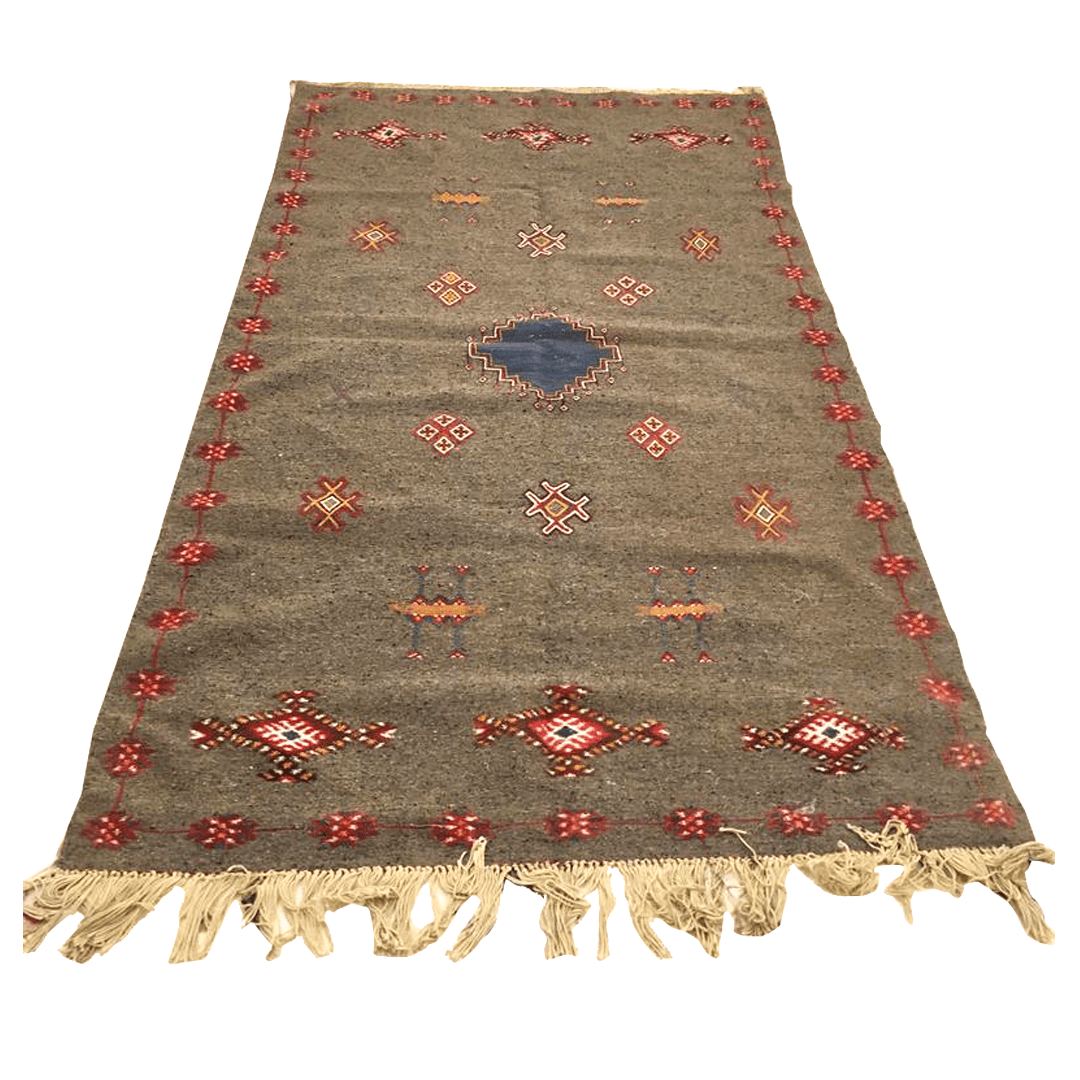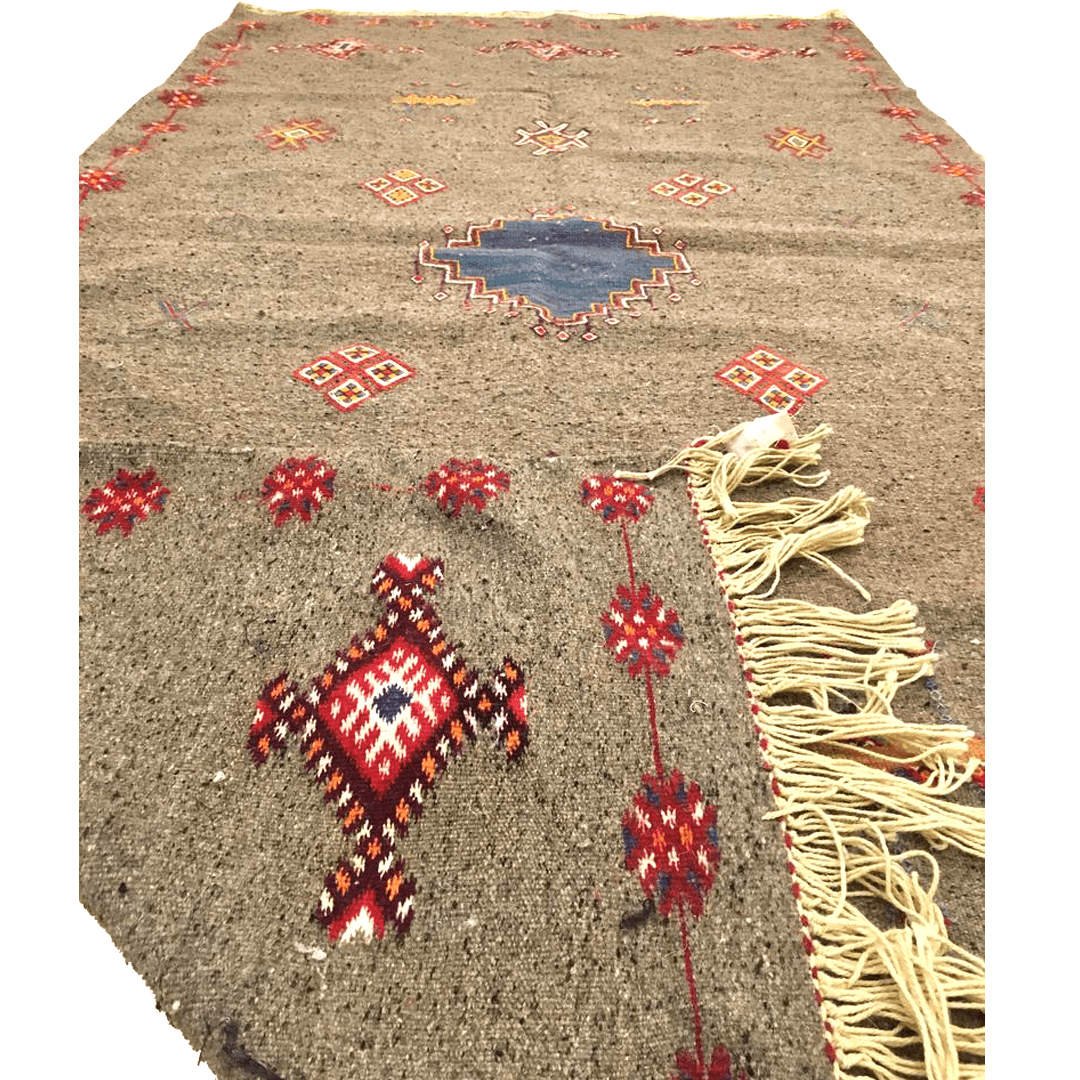 AKHNIF MOROCCAN KILIM RUG – 666100
Description
If you are looking for Luxury Decor with Aspiration, Self Pleasure, An Amazing Story, Personal History, Aesthetics, Premium Quality, Individually Handcrafted by some of the best Artisans in the world not mass produced & Conspicuousness – Read on
Authentic rug fully handmade from the 100% Natural hand spun camel wool. Made by hand and woven by the Berbers women of tribe in the High Atlas Mountains of Morocco.
The Moroccan berber rugs are luxurious and perfect for any room and decor, and could be used as a rug for any room or wall hanging like they are traditionally used.
Featuring a decorated abstract design with Berber graphics, every rug is personally chosen to offer you the most beautiful Berber rugs.
The Moroccan Berber rugs are handcrafted by craftswomen and are truly originals, and no two are alike.
If you are looking for Luxury Décor with Aspiration, Self Pleasure, An Amazing Story, Personal History, Aesthetics, Premium Quality, Individually Handcrafted by some of the best Artisans in the world not mass produced & Conspicuousness – Read on
— The most usable luxury rugs?
Akhnifs have gained the far-away-but-great reputation of being among the most expendable rugs out there. Many regard Moroccan rugs as Luxury Decor. The status is widely due to is ever-buzzed qualities — where it can be used for numerous things and in numerous locations; even with different themes. Akhnifs have long been discussed among the more famous Luxury Decor of Berber origin in their idiosyncrasies that are mostly external – how people interact with the Luxury Decor, and how is they a wholly different from other products which are heavily similar in fabrication, however, their designed patterns are utterly different and unique. These Amazing Rugs have been associated with Luxury Decor.
There has been debate in the rug community about which Luxury Decor should be used or be viewed as more expandable, and there has been more debate on why Akhnif rugs are being treated in this manner while other luxury rugs don't face the same challenges as Akhnifs. This had led to many art-watchers to surround themselves around the politics of the Akhnifs; in hope to discover the allure of the famed rugs or to uncover the illusion. As of now, neither truth is more likely, and that has gained the rug such a humungous amount of attention that they can be acquired for the highest prices, similar to other Luxury Decor of the rug family.
However, knowing that these rugs are extraordinarily expensive, often consumers do try to maintain the quality of the Luxury Decor. Yes, consumers still practice several activities with those rugs, however, the activities they perform are not extensive, and are not things that could potentially harm the rugs, and so they include a wide skills-exploitative use in Moroccan and bohemian homes as blankets, prayer carpets, or as typical rugs in hotter seasons to deal with heat conductance on the ground.
— The most individuals can do with Akhnif rugs
There are loads of things to do with rugs, and that means that there are loads of things to do with Akhnifs too. Multitudes! It really all does boil down to what things you're willing to do with the rugs because the rugs are down with a lot.
Things that you could do with rugs, apart from the aforementioned, include creating a feathery, silky; flooring for your small areas in your hip-upped home by making Akhnif Kilims decorate the more cherished or transformation-needing parts of a room – possibly, the corners, the centre-stage, walls are always a fine idea as well, refrigerators, the bottom of counters – really anything goes, whatever you want goes.
More impractical ideas for those looking to really exploit the beauty and convenience of the Akhnif, especially because they are tarn resistant would be to use them as a dining mat – a sort of picnic mat for those who like to have dinner on the floor. Perhaps placing them on the wall as art pieces would work wonderfully as well, mainly because the Luxury Decor can be "gazorpingly" beautiful. Perhaps covering the floor entirely with the rugs? Some hipsters have gone all the way in the creativity department with these rugs as they've staged them in specific rooms and decorated the room based on the patterns and colours they've observed on the rugs. These inspirations have rendered some of the most beautiful room designs out there and trying this out for yourself is something that you absolutely need to do because you might think that you just entered an ancient heaven after seeing one of these rooms. The beauty of these Luxury Decor is undeniable, and the vibe-reminiscence brought to the table here is spectacular.
— The most of their design (Why the Picasso references?)
These rugs look like Picassos. There, I said it. Well, not exactly like Picassos, but my butterfly-lord, the colour contrasting done on the Akhnifs is so beautiful that the Luxury Decor do indeed look like Picassos.
Like many other Moroccan rugs, Akhnifs do have a unique vibe to them, but particularly with Akhnifs, this vibe is DNA. The colouration of the Akhnifs is honestly outstanding, and the geometrical shapes compounding the more abstract shapes creates masterpieces we usually would only see on display on paintings. There is order and chaos, but all are in such their right places that the composition seems more balanced than the usual colour balance we're used to. This attests to the great skills that rug-designers wield, and the artists are criminally underrepresented when it comes to conversations about outstanding art.
The Akhnif Luxury Decor, from a place of the same name are hand-woven by the Moroccan Woman in the area of Tazenakht, high Atlas Mountains. It is here where they are sprain, are strained and stressed while making the Luxury Decor that can be fetched at entirely premium prices, all year round; always. The natural grey tone with its simplistic tribal patterns creates a unique addition to any home, but it is in bohemian homes where the power of these rugs really shines. It will fit perfectly into any modern contemporary house as well, and it's just a matter of finding the right one because there is a ton of variety. Mid-century modern designers — such as Le Corbusier — paired the thick and piled Berber rug with the minimalist design furniture, and this has allowed for the rugs to exist in most homes which can be of any style because the minimalistic designs don't make any particularly bold impressions on the general composition of the rug, and this enables the rug to complement all kinds of rooms, but also allows for the Luxury Decor to be complemented by the special design of the rooms themselves. These antique rugs fit wonderfully with modernist décor as with other home interiors, and is one you shouldn't be shy about owning because they are hip, and can fit into virtually any space an individual might intend to see the Luxury Decor positioned.
Each hand-knotted symbol on the Akhnif has a meaning, and that is reminiscent of other rugs with symbolism, like the Azilal, but for the Akhnif, symbolism is not the draw – the source of attraction, infact, the draw is that, at other times, the rugs can carry not much symbolism, and it is in the addition of the abstract part of the rugs where the rugs truly become one of the most usable Moroccan rugs on the luxury handmade rugs market. Most often, Moroccan Berber rugs are handmade by women during inclement seasons when they are not able to go about freely, and the seclusion allows for a lot of collaboration and thought of the artist, and their surroundings or experiences, and allows for the best work to be produced. This rings particularly true for tribes located in the Atlas Mountains during winter months, where people rarely move about outside for anything other than sustenance. Each spring when movement is possible again, tribes exchange goods including Luxury Decor, and the rugs are among the most coveted, however, the hardest to acquire; mainly because of scarcity as with each trade season, there can only be so much, but also because of the prices that tag along everywhere with the Luxury Decor. It is in the marketplace during spring where the women are able to communicate with the other tribeswomen — informing them of major life changes, such as marriages, births and deaths, among important and sometimes miscellaneous events, and these can cause some artists to be inspired, and thus allows for more variety available come next trade. These rugs not only function as methods of keeping tribal traditions alive, but also as diaries, journals and newsletters that help the communities function best as a country, or a united; an extensive separated, but cooperative territory.
— The most of important rug history
Akhnif rugs are part of the Berber-family vintage rugs line, and those beautiful Kilims specifically, are from AIT OUAGHERDA; where the Akhnif rugs were discovered and have been produced there for years ever since. Akhnif is a Moroccan handmade kilim handwoven by the local Moroccan Woman in the area of Tazenakht, high Atlas Mountains. Akhnif rugs from Ait Ouagherda are known for its amazing design, each rug is unique and is totally the product of the weaver's imagination, and it is where the luxury products of the Berber family illustrate the most important purpose they serve, and that is to be a product completely for a consumers satisfaction, and by consumers finding endless ways to utilize Akhnif rugs, this speaks mountains on what the Berber artists have achieved, and that is mastering their craft.
Berber rugs have "a look", that's what distinguishes them from other luxury products in the market, and for them, that distinction is heavily due to the fact that the rugs really do go all the way in exploring creativity, however, the things that really drives the look is the tribal relationships that individuals in the Berber territory have with each other.
Communicating in favour of art is something that should be heavily promoted, and in many ways, it is a reminder to not put restrictions on art – specific things that should be displayed, and others taken down simply because they are believed to be in poor taster. To do that is to strip art of its dignity, and that is to evoke a different response. It is not that art suggestions are bad because they make you think differently, it is that they can make you think differently that makes them matter – suggesting that maybe there is reason to think more about an artwork or the politics that make it controversial or a major topic of discussion. This is precisely the reason why art works are censored. Art doesn't do anything other than introduce a probability, and by introducing that probability, there should be no worry precisely because there is nothing to change, and so why the worry? And so, the art never stops flowing because it rightfully has no reason to stop.
If there was a right nickname to give a luxury product so as to propel it further into the loved-things world, that would be "the liberal product". That is essentially the purpose. This rug stands as the symbol of liberty in the rug community, and it is to no surprise of art-buffs that these rug are owned extensively, and used extensively as well; without really affecting its price. Like any other important artwork, it tells as story, and there is nothing louder or more important than something that tells a story, or even reminds of it. A narrative must be established for change, and in this narrative of the Akhnifs, women of the Berber community have found a way to make a change, however subtle from inside a flawed community; unlike many others like it.
— The most for the interested
QualityHandcraft has a butterfly-filling selection of the highest quality handmade vintage Moroccan Akhnif rugs available to buy as luxury gifts for yourself or others. You can also acquire classic-looking handmade rugs online of other parentage like vintage Persian rugs as well as modern handmade rugs and modern designer rugs from the list of designer rugs. There are large Moroccan handmade rugs and even petit handmade rugs you can buy online. Each unique piece has been discovered only by traveling around the globe, including the Ait Ouagherda territory to meet with the weavers, and have been hand-picked for their interesting process of products and the details imbued by the weavers — details intended to introduce good stories to the minds of art-lovers and rug-lovers in an attempt to ground as human beings. They draw from all the ways they've learned how from generational teachings to personal life stories, experiences with death and oblivion, expressions of theism, appreciation of virtues; philosophy and the ways they pushed through major life events and emerged still willing to produce appreciated content so that others can learn and be better individuals.
The carpet tribe is a large mesh, and there are large handmade rugs, designer rugs, modern handmade rugs, modern designer rugs for sale and even vintage Persian rugs for sale which are among the most expensive, and famed type of rug in the world, however only the traditional Persian rugs are fetched for the highest valued exchanges, and the Berber Akhnif rugs are close in price to these because they are the rug you'd recommend to everyone looking to enter the rug-buying, rug-owning, and rug-cherishing space. It's a serene environment welcome to everyone, and it's better to kick-start things with something simple, something, say, an Akhnif rug. If you are looking for Luxury Decor there no better place to start than with these Amazing & Beautiful Handmade Rugs.
From this eyeing positing, the Akhnif Luxury Decor take on a new kind of life, a life not about insinuation or proposition or direction, but a life about being yourself as yourself, without any major labels to be used against you in times of conflict. It truly is a "neutral rug" in terms of politics and is something everyone should.
These one of a kind Luxury Décor Handmade Rugs made by some of the best Artisans in the world will bring delight to your home.
Additional information
| | |
| --- | --- |
| Actual Size | |
| Age | |
| Color | |
| Sizes | |
| Color Family | |
| Colour Family | |
| Condition | |
| Country of Manufacture | |
| Custom Collection | |
| Size Range | |
| Design | |
| Pattern | |
| Pile | |
| Foundation | |
| Rug Type | |
| Style | |
| Shape | |
| Knot | |
| Weave | |
Rotate your rugs frequently to equalize the damaging effects of the sunlight. Continual direct exposure to sunlight will damage a rug over time, use window shades, shutters, or heavy curtains to safeguard your investment.
Protect your rugs from Fumes and Dampness from furnaces, stoves, chimneys and auto exhaust can mix with humidity in the atmosphere to form an acid that fades and deteriorates the appearance of wool. Over time, dampness will rot the threads and destroy the fibers of a rug. Keep them in a dry environment.
Wear and tear If a rug is cut or torn, have a competent person repair the damage as soon as possible. Holes can expand very quickly and ruin an otherwise repairable carpet. With ordinary use, the selvage edges tend to fray as they are not as compressed as the rug pile. Worn edges can easily be re-darned. Fringes can be replaced. Worn or damaged areas in the middle of a rug can be re-knotted. Even large holes can be restored.
Moths can cause extensive damage to Oriental rugs; however, a carpet in normal use is rarely in danger from moths. Frequent rotation and regular exposure to light and air usually keeps moths at bay. Eliminate these pests and safeguard against their return by spraying the front and back of a carpet every six months with moth spray.
Padding an Oriental rug the life can be doubled with the use of good-quality padding. Padding protects the rug, especially in heavily-trafficked areas. The best padding is made of hair or fiber with a rubberized surface to prevent moving and wrinkling. Avoid synthetic pad that takes on the appearance of rubber as it turns to an abrasive powder after several years.
Cleaning The beauty and life of Oriental rugs are vitally dependent on their cleanliness. Lack of maintenance will contribute to loss in the potential investment.
Sweeping the rug with a broom at least once a week removes loose soil and brings out it's natural sheen
Beating is one of the best methods for cleaning a rug. It should be beaten several times on each side, always in dry weather.
Vacuuming Try to use a low suction level and a new bag. Never vacuum against the nap, as this presses dirt back into the rug. (Run your hand across the pile from fringe to fringe to determine the direction of the nap.) Do not vacuum the fringes. The suction of a powerful vacuum cleaner can tear the fringe.
Washing Oriental rugs should be washed every three to five years, depending on their use and the amount of traffic they endure. Using steam-cleaning or chemicals on an Oriental rug removes the natural oils from the wool. The pile becomes brittle, and the carpet wears out sooner. Do not, unless absolutely necessary, submerge an Oriental rug in water. Surface cleaning is usually all that is required.
Crushed pile Revive carpet pile that has been crushed by heavy furniture by brushing the indented area with a soft brush. Moisten with a spray bottle, and brush again.
Storage If a rug must be stored, it must be inspected regularly. To store a rug, wrap it in fabric. An Oriental rug needs to breathe. It can rot or mildew in plastic. A rug can be rolled up and stored in a chest with some paradichlorobenzene crystals, which make the wool inedible to moths. DO NOT lay carpets flat on top of one another for any length of time. A rug stored in a damp or humid area will mildew, which discolors and weakens the fibers. A hot or poorly ventilated storage area will dry out the base of the rug, making it brittle, destroying strength and durability. If you act immediately, you can prevent virtually any spill from becoming a stain.
We always recommend that you use a Professional Rug cleaning Service as a safe guard in protecting your Rug.
Shipping & Returns Guide
– We provide Local, Nationwide & International Shipping via DHL / UPS with a delivery time of 5 to 7 days from our suppliers in Morocco subject to availability.
– Customers are liable to any import or customs duties on arrival of the rug in their country. Please refer to our Refunds, Returns & Exchanges Policies section for further details.
– You will be responsible for all return shipping costs with the same courier you received the rug(s) with.
– In case of a return, you are liable to pay 5% re-stocking fee for internal company expenses such as handling, accounting, banking and other associated expenses.
– We operate on very low margins, hence we do not encourage customers to adopt a """"buy to try"""" approach.
– If you receive a damaged item, QualityHandcraft will assist you in receiving a replacement or refund as quickly as possible – at no cost to you.
Reviews

BETH
Found this stunning Vintage Moroccan Rug – Absolutely Beautiful – Packaged well & arrived few days earlier – EVEN BETTER

Paul
Quirky, unique, cool…. Quality is good if you are looking for something different – Exclusive Premium Tamegroute Pottery – Petit Bol Abord Brun with Designer Copper Rim – 30% More Highest Quality Green Glaze

Joan
Lovely bowl arrived today! Love it. Thank you for the awesome packaging!

Clare
Beautiful handmade vase that looks fantastic in my room – Unique Elegant Handcrafted DEUX OREILLES SURAHI Tamegroute Green Glazed Pottery

Sara Kidd
Absolutely stunning! Even more lovely in person. Super fast shipping and my order was packaged so carefully and thoughtfully. Thank you!

Nesrine
Looove it! Super fast shipping

Summer Rayne
Arrived safely and in great condition.

Kaisa
Thank you so much for the beautiful bowl. It is just perfect. And thank you for the lovely gift. I really love it.

Molly
Super well packed, feels heavy and solid in your hand. Color is especially lovely. Would order again.

Lara
After many weeks of searching, I found this lovely rug, I asked the seller for more pictures and they were kind enough to send me a video of the rug from a few different angles. Beautiful colours although a bit lighter than the photos shown. Overall fantastic quality and super fast shipping (it actually came a week early), just wish it was a little darker.

John Sullivan
These guys have been absolutely outstanding. Perfect and the best of all that you have many options to choose! Best Support team ever! Very fast responding! Thank you very much! I highly recommend this theme and these people!

Danielle Gregory
Amazing Customer Support – very good, no waiting around. Immediately solved my problems and answered my questions when I needed help. Are to be congratulated.