-15%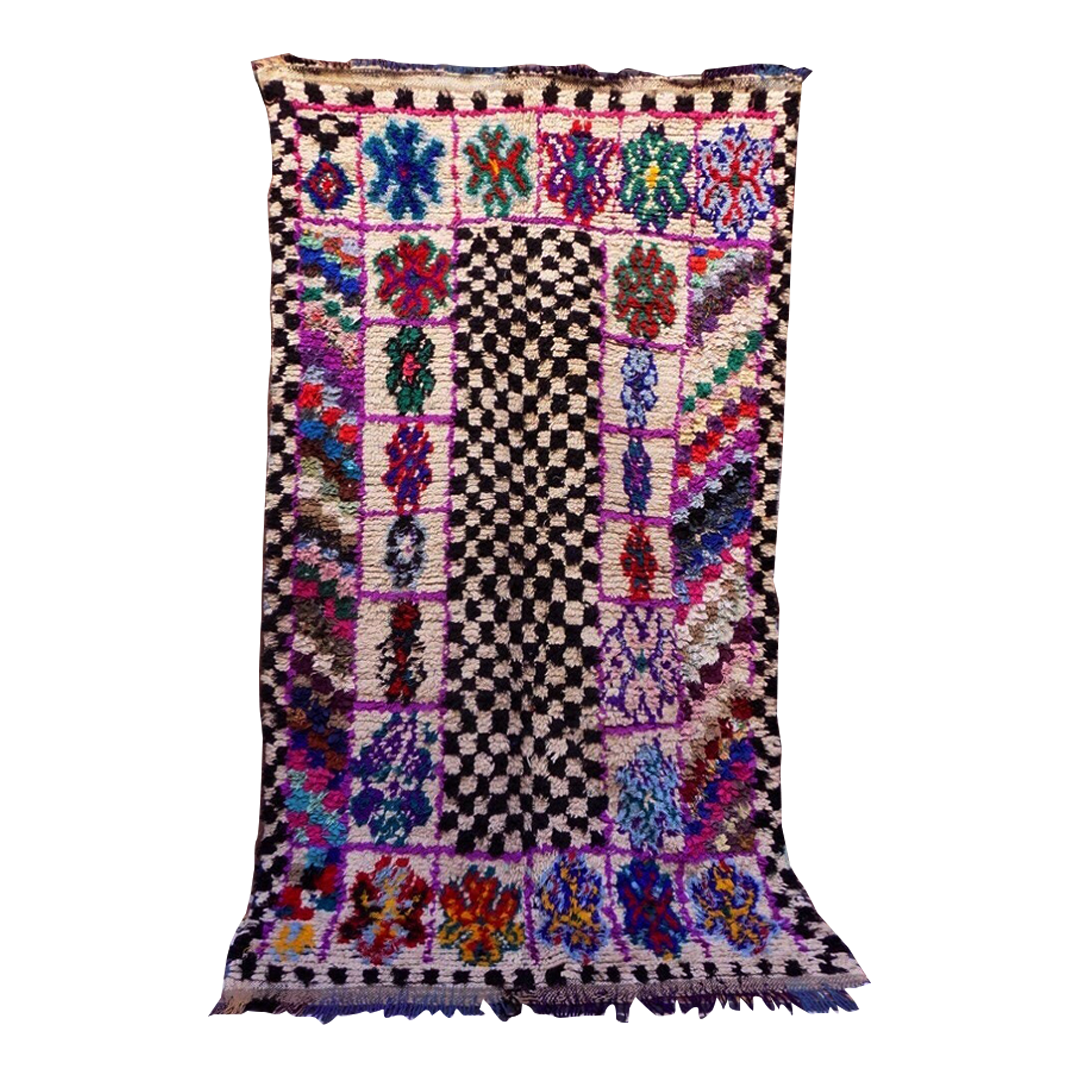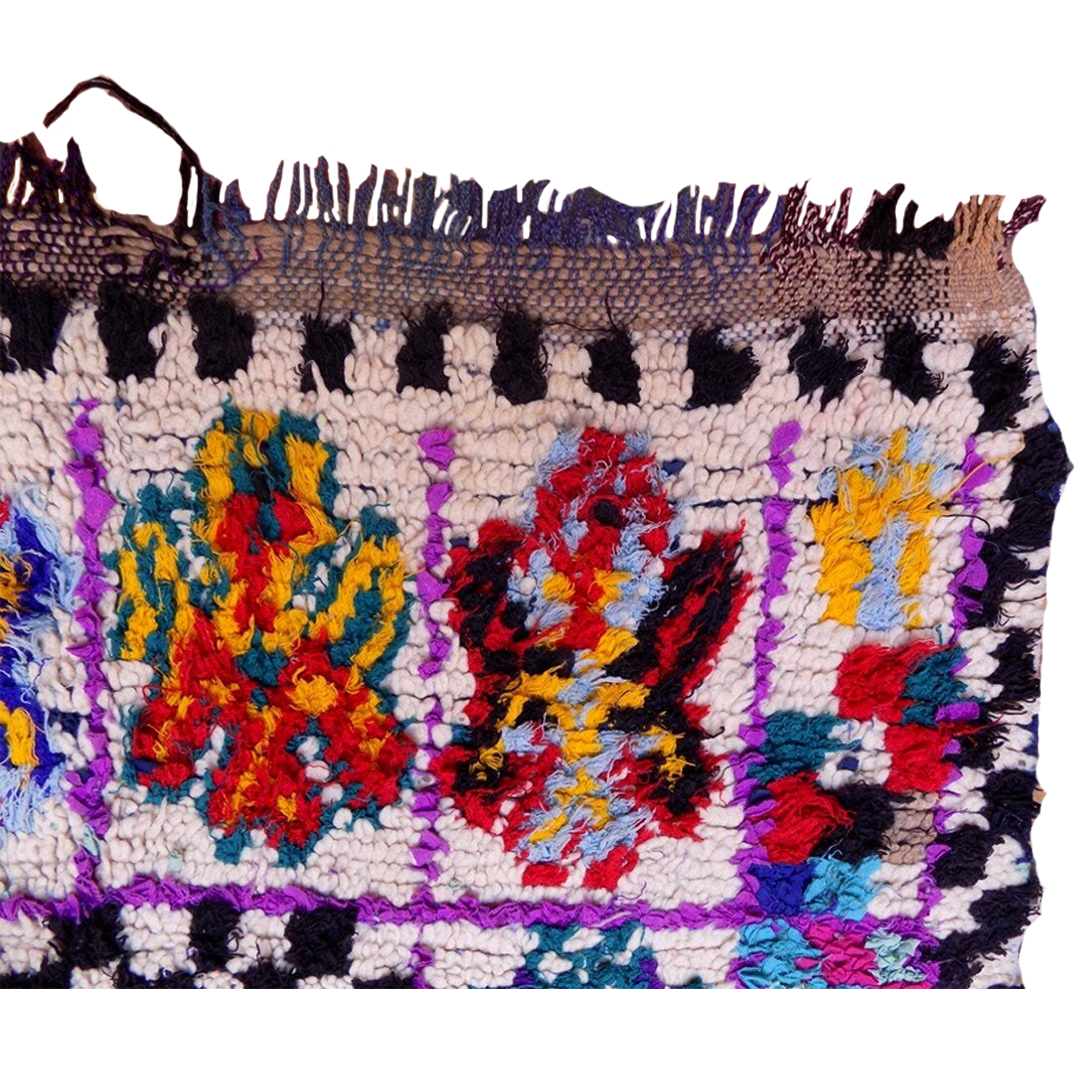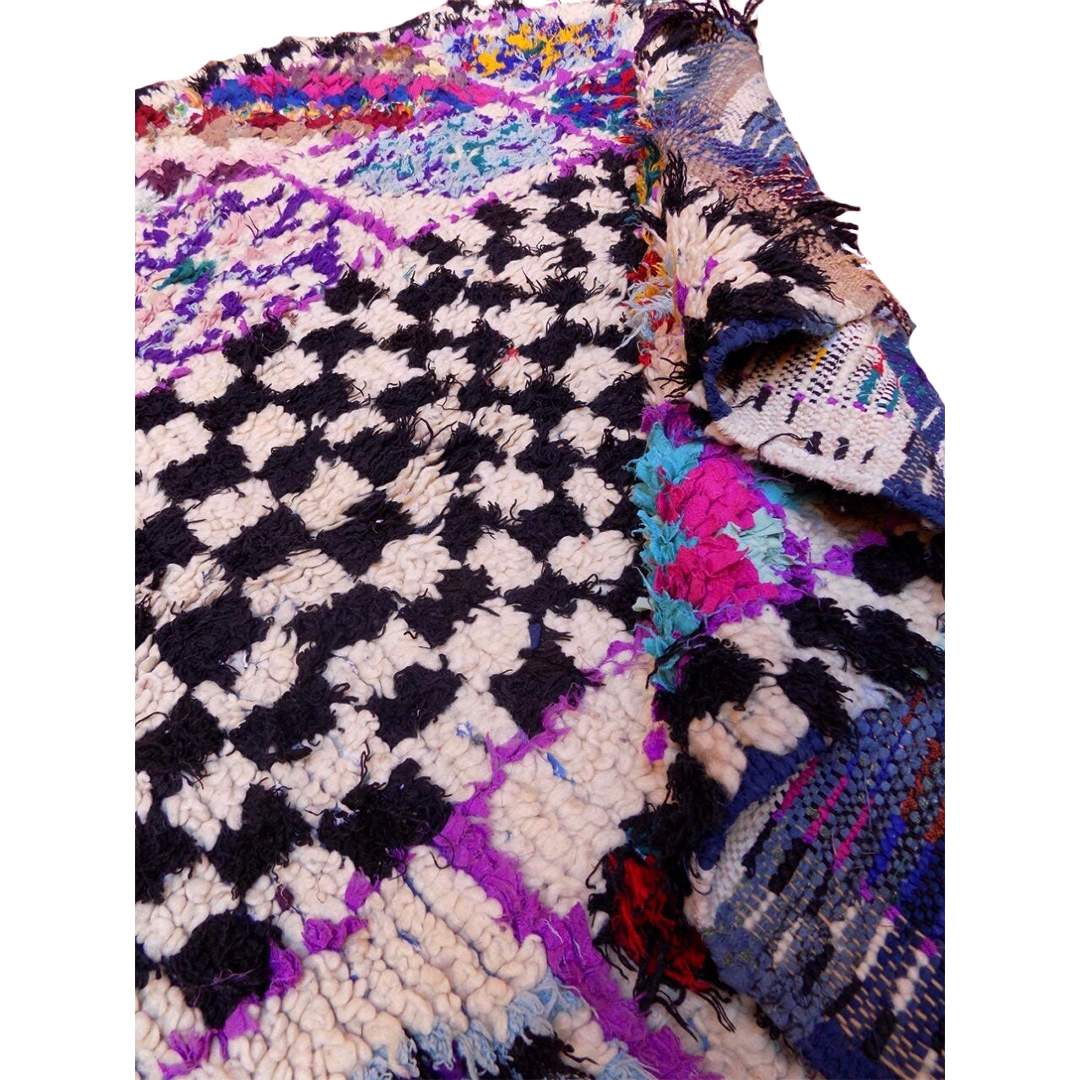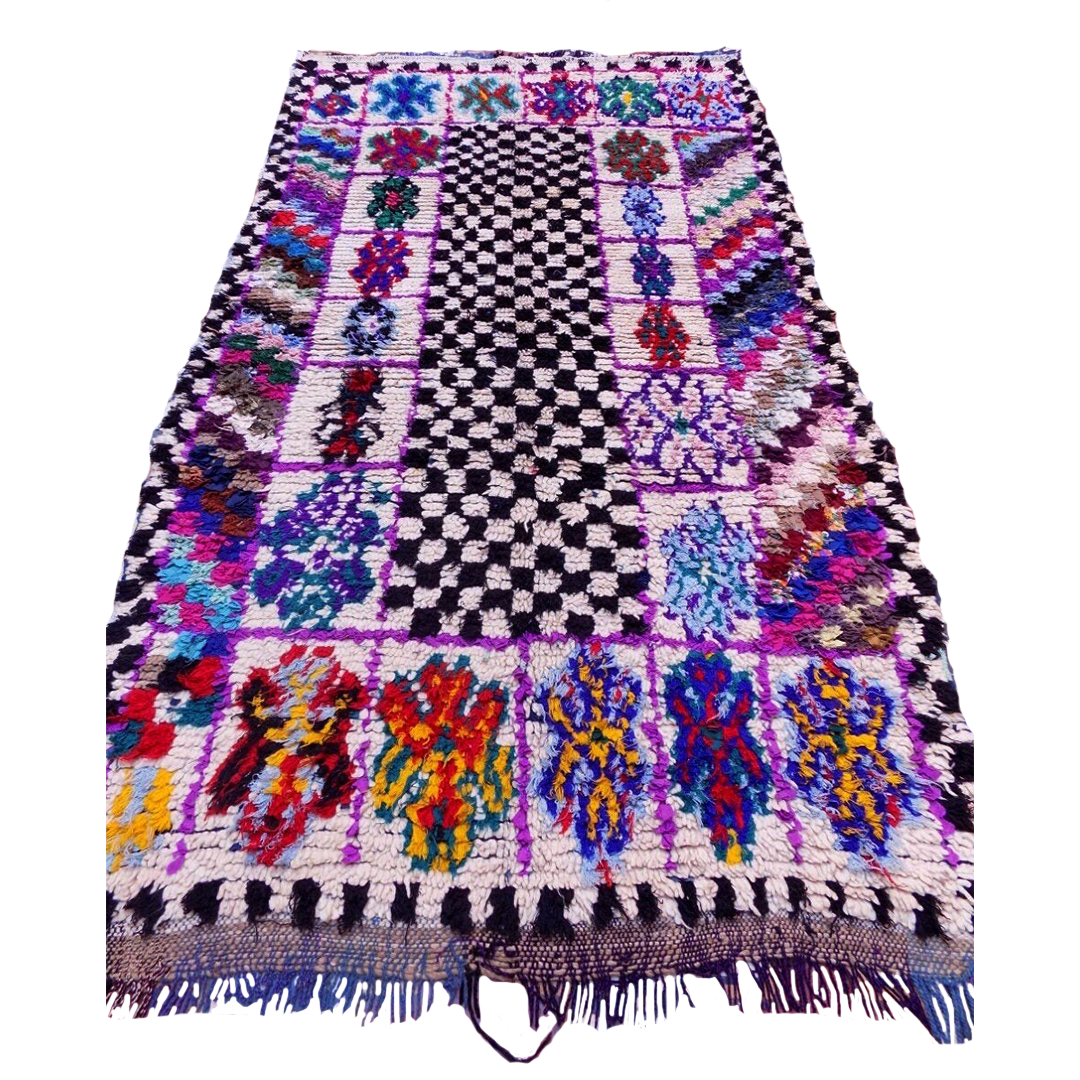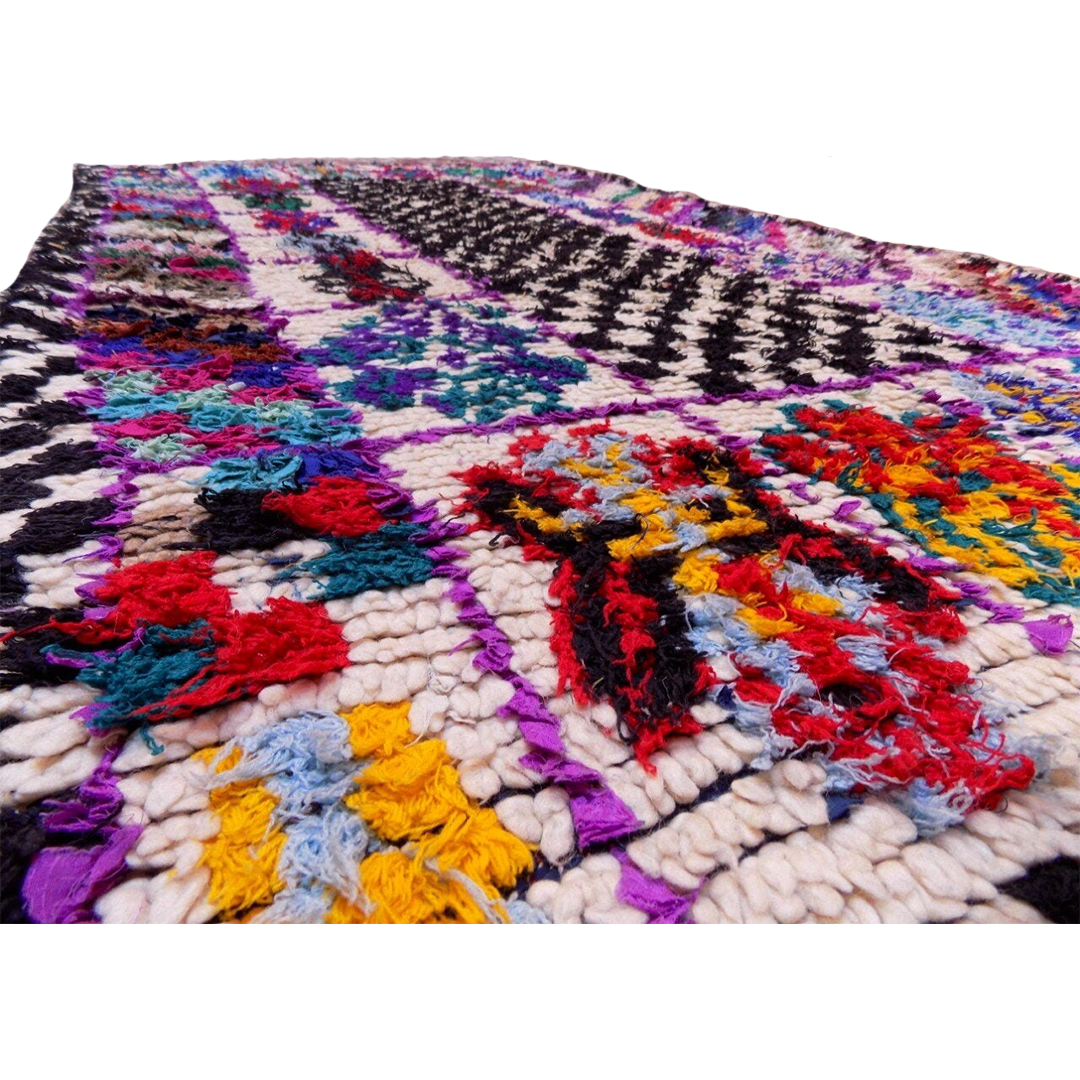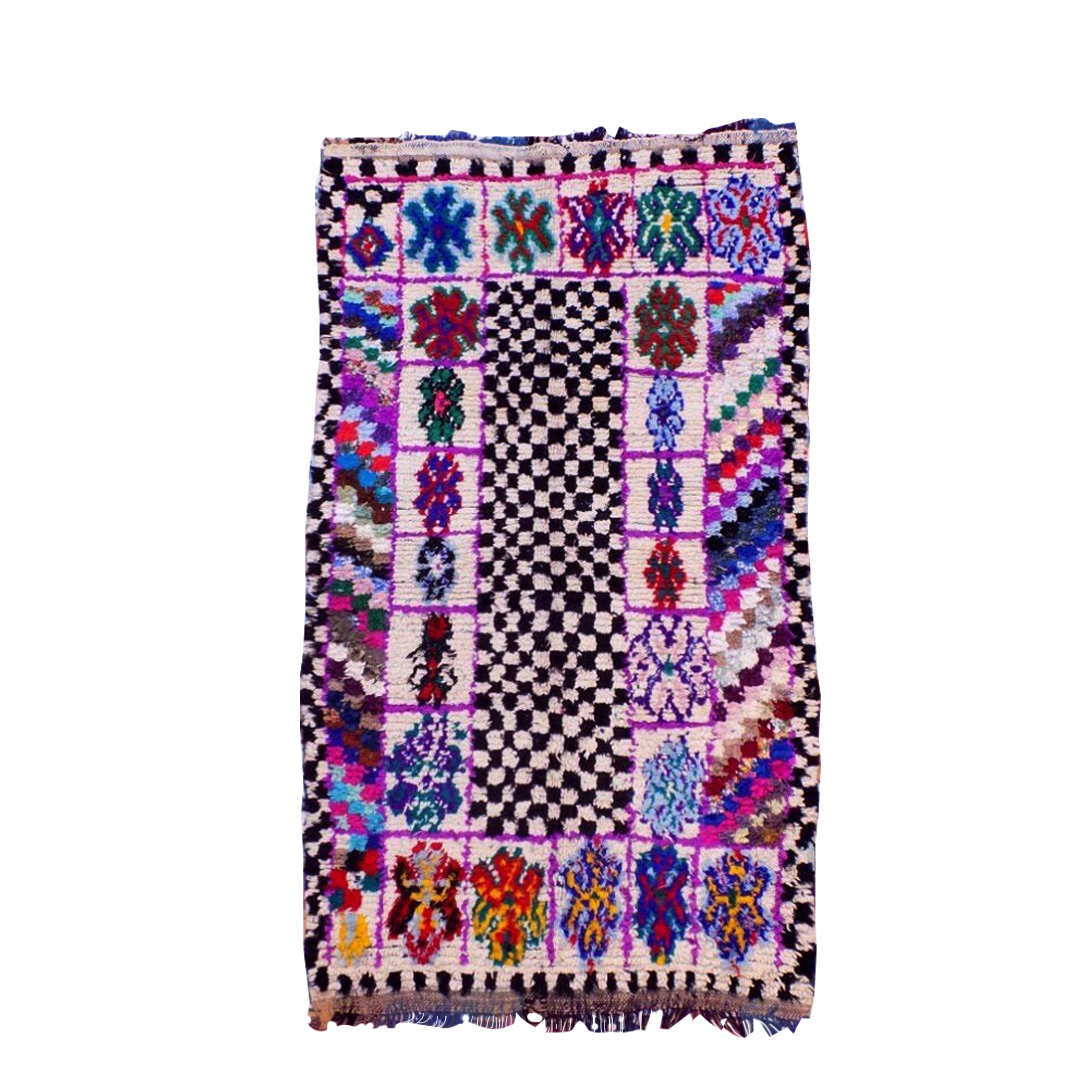 VINTAGE BOUCHEROUITE MOROCCAN RUG – 666177
Description
If you are looking for Moroccan Berber Rugs for Sale with Aspiration, Self Pleasure, An Amazing Story, Personal History, Aesthetics, Premium Quality, Individually Handcrafted by some of the best Artisans in the world not mass produced & Conspicuousness – Read on
The Boucherouite rug is made of the finest quality wool, which is sewed with cotton and nylon. The specialists fasten the knots with flawlessness and the finishing of the Boucherouite rugs is great. It is accessible in vibrant colors. Customarily the Boucherouite rugs are colored with different shades of cotton and nylon available in the market.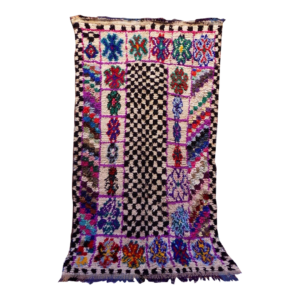 On the off chance that you will see there are fine patterns made by the dark fiber. They are unique and enhance the beauty of the rug. It would not be wrong to call the Boucherouite rugs a style statement because they have been designed to make the interior look lavish and elegant. It will make your house seem luxurious without the addition of special decoration pieces.
The shades and designs of the Boucherouite rug are exceptionally attractive. It appears like they have been purchased from the past. The rugs are accessible in their finest structures and the condition is astounding so it will serve you for quite a while. The Boucherouite mats are made with such quality to guarantee that they will keep last forever.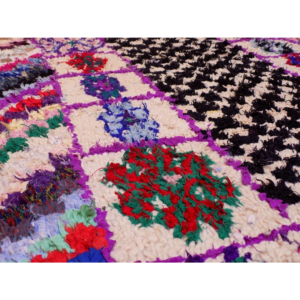 It will make the interior of your home look modern and stylish. You can keep it in any room that you prefer and the Boucherouite rugs will enhance the class of the interior. They colors will merge with other shades in the room. You can even let the kids play on the rug because of its cloud like softness and stain resistant manufacturing. Boucherouite rugs are the best vintage rugs.
Moroccan Boucherouite rug is one of a kind vintage recycled fabric rugs are made by tribal Berber women, weaving together recycled textiles to create this beautiful Bohemian Boucherouite rug. These kind of rugs can be placed anywhere in your home also be hung on walls that make a colorful and warm ambiance in your home. Each is one of a kind. The Boucherouite Rug it is made from threads of cotton and different scraps of textiles. and the rug was knotted on a threads of cotton base. Moroccan Berber Rugs for Sale no better to purchase than QualityHandcraft.
Dimensions: 7 X 4 ft. 213/120 cm
Material: 100% Natural Sheep Wool – Raw materials : different scraps of textiles, cotton , wool
Weave & Manufacturing: Hand Knotted
Primary Colors: Product images are always matched to the product colors and information is as accurate as possible. However, different screens show colors differently depending on screen settings and it is always recommended to check product images on more than one screen to understand the difference.
Design of Origin: Morocco
Age: Vintage before 2000
Tags: abstract_rug, area_rug, authentic_rug, boho_rug, boucherouite_rug, floor_rugs, handmade_rug, laundry_room_rug, Moroccan_carpet, Moroccan_rug, shag_rug, vintage_rug, wool_sheep_rug
Additional information
| | |
| --- | --- |
| Actual Size | |
| Sizes | |
| Age | |
| Color | |
| Color Family | |
| Colour Family | |
| Condition | |
| Country of Manufacture | |
| Custom Collection | |
| Size Range | |
| Design | |
| Pattern | |
| Pile | |
| Foundation | |
| Rug Type | |
| Style | |
| Shape | |
| Knot | |
| Weave | |
Rotate your rugs frequently to equalize the damaging effects of the sunlight. Continual direct exposure to sunlight will damage a rug over time, use window shades, shutters, or heavy curtains to safeguard your investment.
Protect your rugs from Fumes and Dampness from furnaces, stoves, chimneys and auto exhaust can mix with humidity in the atmosphere to form an acid that fades and deteriorates the appearance of wool. Over time, dampness will rot the threads and destroy the fibers of a rug. Keep them in a dry environment.
Wear and tear If a rug is cut or torn, have a competent person repair the damage as soon as possible. Holes can expand very quickly and ruin an otherwise repairable carpet. With ordinary use, the selvage edges tend to fray as they are not as compressed as the rug pile. Worn edges can easily be re-darned. Fringes can be replaced. Worn or damaged areas in the middle of a rug can be re-knotted. Even large holes can be restored.
Moths can cause extensive damage to Oriental rugs; however, a carpet in normal use is rarely in danger from moths. Frequent rotation and regular exposure to light and air usually keeps moths at bay. Eliminate these pests and safeguard against their return by spraying the front and back of a carpet every six months with moth spray.
Padding an Oriental rug the life can be doubled with the use of good-quality padding. Padding protects the rug, especially in heavily-trafficked areas. The best padding is made of hair or fiber with a rubberized surface to prevent moving and wrinkling. Avoid synthetic pad that takes on the appearance of rubber as it turns to an abrasive powder after several years.
Cleaning The beauty and life of Oriental rugs are vitally dependent on their cleanliness. Lack of maintenance will contribute to loss in the potential investment.
Sweeping the rug with a broom at least once a week removes loose soil and brings out it's natural sheen
Beating is one of the best methods for cleaning a rug. It should be beaten several times on each side, always in dry weather.
Vacuuming Try to use a low suction level and a new bag. Never vacuum against the nap, as this presses dirt back into the rug. (Run your hand across the pile from fringe to fringe to determine the direction of the nap.) Do not vacuum the fringes. The suction of a powerful vacuum cleaner can tear the fringe.
Washing Oriental rugs should be washed every three to five years, depending on their use and the amount of traffic they endure. Using steam-cleaning or chemicals on an Oriental rug removes the natural oils from the wool. The pile becomes brittle, and the carpet wears out sooner. Do not, unless absolutely necessary, submerge an Oriental rug in water. Surface cleaning is usually all that is required.
Crushed pile Revive carpet pile that has been crushed by heavy furniture by brushing the indented area with a soft brush. Moisten with a spray bottle, and brush again.
Storage If a rug must be stored, it must be inspected regularly. To store a rug, wrap it in fabric. An Oriental rug needs to breathe. It can rot or mildew in plastic. A rug can be rolled up and stored in a chest with some paradichlorobenzene crystals, which make the wool inedible to moths. DO NOT lay carpets flat on top of one another for any length of time. A rug stored in a damp or humid area will mildew, which discolors and weakens the fibers. A hot or poorly ventilated storage area will dry out the base of the rug, making it brittle, destroying strength and durability. If you act immediately, you can prevent virtually any spill from becoming a stain.
We always recommend that you use a Professional Rug cleaning Service as a safe guard in protecting your Rug.
Shipping & Returns Guide
– We provide Local, Nationwide & International Shipping via DHL / UPS with a delivery time of 5 to 7 days from our suppliers in Morocco subject to availability.
– Customers are liable to any import or customs duties on arrival of the rug in their country. Please refer to our Refunds, Returns & Exchanges Policies section for further details.
– You will be responsible for all return shipping costs with the same courier you received the rug(s) with.
– In case of a return, you are liable to pay 5% re-stocking fee for internal company expenses such as handling, accounting, banking and other associated expenses.
– We operate on very low margins, hence we do not encourage customers to adopt a """"buy to try"""" approach.
– If you receive a damaged item, QualityHandcraft will assist you in receiving a replacement or refund as quickly as possible – at no cost to you.
Reviews

BETH
Found this stunning Vintage Moroccan Rug – Absolutely Beautiful – Packaged well & arrived few days earlier – EVEN BETTER

Paul
Quirky, unique, cool…. Quality is good if you are looking for something different – Exclusive Premium Tamegroute Pottery – Petit Bol Abord Brun with Designer Copper Rim – 30% More Highest Quality Green Glaze

Joan
Lovely bowl arrived today! Love it. Thank you for the awesome packaging!

Clare
Beautiful handmade vase that looks fantastic in my room – Unique Elegant Handcrafted DEUX OREILLES SURAHI Tamegroute Green Glazed Pottery

Sara Kidd
Absolutely stunning! Even more lovely in person. Super fast shipping and my order was packaged so carefully and thoughtfully. Thank you!

Nesrine
Looove it! Super fast shipping

Summer Rayne
Arrived safely and in great condition.

Kaisa
Thank you so much for the beautiful bowl. It is just perfect. And thank you for the lovely gift. I really love it.

Molly
Super well packed, feels heavy and solid in your hand. Color is especially lovely. Would order again.

Lara
After many weeks of searching, I found this lovely rug, I asked the seller for more pictures and they were kind enough to send me a video of the rug from a few different angles. Beautiful colours although a bit lighter than the photos shown. Overall fantastic quality and super fast shipping (it actually came a week early), just wish it was a little darker.

John Sullivan
These guys have been absolutely outstanding. Perfect and the best of all that you have many options to choose! Best Support team ever! Very fast responding! Thank you very much! I highly recommend this theme and these people!

Danielle Gregory
Amazing Customer Support – very good, no waiting around. Immediately solved my problems and answered my questions when I needed help. Are to be congratulated.