-43%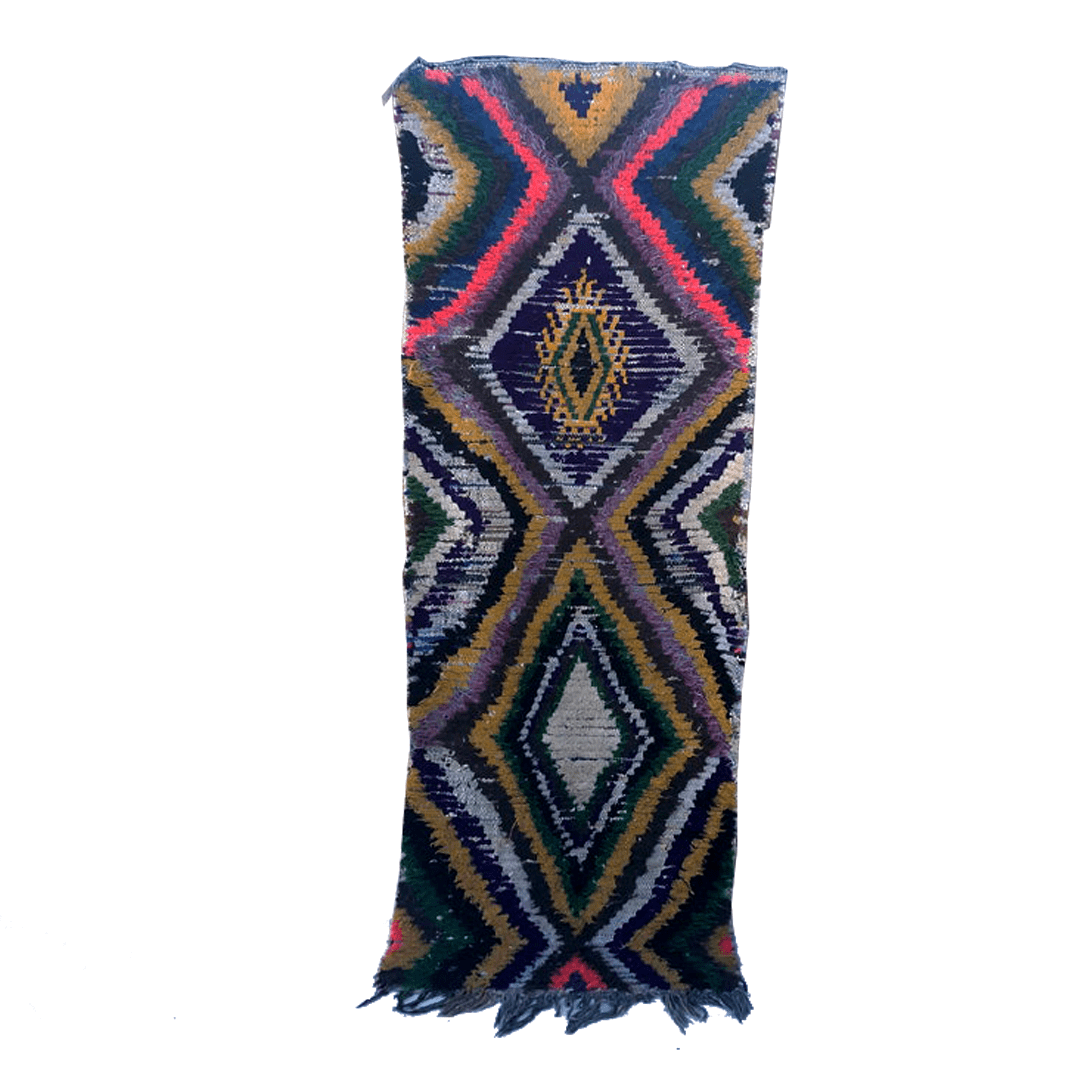 VINTAGE BOUCHEROUITE AZILAL RUNNER MOROCCAN RUG – 666168
Estimated delivery is between 7-10 days.
SHARE
Description
If you are looking for Luxury Furniture with Aspiration, Self Pleasure, An Amazing Story, Personal History, Aesthetics, Premium Quality, Individually Handcrafted by some of the best Artisans in the world not mass produced & Conspicuousness – Read on
The Boucherouite rug (taken from the Arabic word 'bu sherwit meaning, 'a piece torn from used clothing') is a magical colorful work of art, hand crafted by women in remote villages in Morocco. Also known as 'rag rugs', the Boucherouite rug can be found in cities in Marrakesh, Beni Mellal and Azilal however the authentic vintage rugs can only be found in Berber villages high in the Atlas Mountains.
Boucherouite rugs first emerged around the 1950's, woven from pre-used clothing or scrap materials hence the name, and were used as blankets and wraps to keep warm especially during the harsh winter that the Atlas Mountains bring. The rugs are traditionally made from a mixture of thousands of scraps of used materials such as nylon, cotton and often wool. The stunning mixture of materials adds to the unique texture and design of these colorful pieces of modern art. Since the 90's these rugs have become popular and can add character to any home.
I remember as a young child visiting the Berber villages with my father and seeing for myself the women wearing or sun drying their pieces and loving the beautiful colors and never seeing 2 rugs alike. Each Boucherouite has its own personality, passed down from the women themselves who made it. The rugs represent beauty, strength, family, livelihood and everything that is good in society today.
"One of those places where creativity breathes and learns"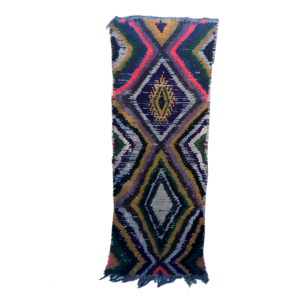 Rugs come in many colours, and often, consumers prefer rugs mainly for the colours they bear, however, there are special individuals out there in the world that aren't really in search for any symmetry or consistency in the design of their rugs; for these individuals, beauty can be found in an array of abstract things – it be marbled meat like Wagyu beef or it be a blend of spices than accidentally marries other spices after meeting the ground when the containers fall to floors; it could be something electrically engrossing and dramatically chaotic – beauty can be anything to these people; there is so much understanding that bubbles inside their minds and these individuals know how to represent it in their tastes the best out of everyone. These special individuals have a unique kind of empathy – one that transcends humans, and pours over to objects — empathy that is infinite, and to those people, there could be no rug out there that is so attuned to their desires than a Boucherouite rug of Berber creation.
Boucherouite are a unique line of creation in Berber land because they aren't considered to be the poshest works that have come out of the highlands of the Berbers' regions of residence. The luxury furniture are often a fusion of colours in a 'rag rug' style made by the amalgamation of phantasmagoric fabrics, mongrel textiles and pure raw wool.
Epicureans of Berber land are often the citers of the raw material that are to go into Boucherouite rugs, and because the rugs have a nature that makes them look like they are to explode because of too much fantasy-suffusion, the individuals sourcing the materials have to be really good at having great tastes, and that is not something anyone can open a book and learn.
The idea of the unique epicurean is exactly why products from Berber land are incomparable to products from the outside, and this is because epicureans are made when individuals are exposed to products and learn to use those products to make great work, and in Berber Land, there are many products that are generally scarce around the world, however are abundant in use in the territory. The result is that epicureans who sought to be artists learn and make products, and master their craft with the luxurious limitations they have little limitations.
Outside Berber land, those limitations would be seen as advantages to most because where epicurean Berbers exist in the largest numbers, there usually is raw material galore.
To be a tram full of honesty, it is important to disclose that the Boucherouite rugs that are proudly of Berber creation by the bon vivant Berbers themselves aren't really for the ascetics out there – these rugs really need to be held by individuals whose insides are as colourful as the rugs themselves because the explosion of colours can leave many feeling uneasy, and only shrewd work of visual taming that may done by those who allow a space of love to exist in their hearts for these rugs can allow for the individuals to see that the luxury furniture, the wild Boucherouites, deserve to have their homes called the rug's home.
Earthly dyes are used to create the vivid symposium that is the colours ingrained in Boucherouite rugs. The luxury furniture are a riverting sight to see, and without question, the colour-chaos is the main attraction. The premium qualities of the materials used to fabricate the blessed-with-love Boucherouite rugs are machine-washable, unlike many rugs of Berber creation, but that doesn't take away from the value because that shouldn't be a decider of value. A proverbial, but staple East African proverb loosely translates to "What spoils is not always what is to ponder about first, whence you think it collateral, no matter how much prettier among the pretty, you'll take it with you last," and it do everyone best to keep it in mind as it isn't an assurance, rather than a possibility, and in regards to the quality of a Boucherouite, it is a rather minor one.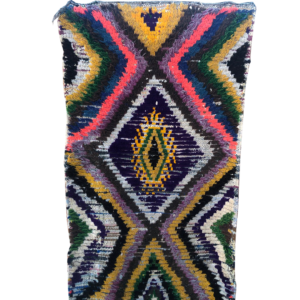 The name of the luxury furniture comes from the Arabic pair, bu cherwit meaning "a piece torn from used clothing". The rugs are commonly adorned with geometric or abstract patterns that are often lauded for pushing abstract-art forward, and are perfect for adding "fun" to otherwise generally muted rooms. When the world became industrialized, consumers began to replace nomadic herding traditions with factory-belonging machinery, and resource reservoirs in production spaces from the left became no longer as populus, and so, weavers of the Central Atlas Mountains began to use other matter, beyond just typical raw wool, to make rugs.
Their practical use in Berber homes has been extensively varied; uses range from the luxury furniture being used as seating mats, as covering agents to veil even more expensive products; vintage rugs were covered the most, in various positions in kitchens from floors to counters or even on walls so that individuals can ponder on why exactly a rug is on a wall – among other questions about the bizarre effect of luxury furniture on individuals, and the uses also jump to them being as compounded spaces at the ground-level for children to play on. Boucherouite rugs tend to be smaller in size compared to most other carpets and are frequently used as saddle covers by Berbers when travelling plains, plateaus, highlands or sand dunes by mule, camel or horse.
A Boucherouite rug is a piece wholly appealing, however, it is beloved the most by individuals residing in the warmer regions of Berber land, and even to consumers residing in warm territories beyond Berber land. They are physically tailored for warmer regions, and are not to be at the top of someone's mind when they're looking for something like a thick blanket to save them from the friskiness of winter – in this case, think of Boucherouites as a collection of colourful feathers so as to delete any thought of it as a thick blanket, however, they do have practical length and girth, but they still wouldn't really get you far in the battle against cold weather.
For great weatherly protection, it's best you seek out other rugs of Berber creation like an Azilal which has some similarities in terms of the vibrancy of the color scheme, however, they aren't as abstract as Boucherouites.
Boucherouite rugs first effused into mainstream culture in the 1950s, and their popularity has only exploded ever since. The luxury furniture are made from a stunning mixture of materials that adds to the famed texture and design of these colourful pieces of modern art that have a street-art vibe to it that really is hard to describe because it isn't crude – it isn't actually street art because features a unique mix of high art, many kinds of abstract art and some inspirations of street-art that just know how to find a way to make perfect sense as a single unit. Since the 90s, these rugs have become known as the rugs that will surely add character to a room, however, it is important to tread lightly here as well because the character that it might introduce to a room might come of as strange. All this peculiarity is possible because an individual often has to choose to focus on one thing at a time with these rugs, not the whole, and so it becomes really important to choose the rug that resonates with you, and that you think is the best representation of you as an individual hidden inside a body that both echos you, but isn't something that would make other individuals feel aloof because there is a lot going on in these rugs, and because it's all abstract, there's no way of being sure of an individual's reaction to it – some might love it, but some might find that it can provide discomfit. The rugs really do have a psychedelic quality to it, and unlike many other products trying to capture the feel, they aren't beguiling – they just work wholly peachily because Boucherouites were designed to be of that manner.
Many individuals who come across a Boucherouite rug claim that it isn't an experience that they readily forgot. There's something about the design that stays with you, and many have thought that the presence of the vivid imagery of the rugs from memory is the result of the brain's constant attempt to decipher what it had observed because it hadn't managed to do it completely at first glance.  Reminiscing about being a young child visiting the Berber villages where Boucherouites are birthed would seem to be a fantasy experience for those familiar with the power of the luxury furniture. Having to see all those Berber rugs, and other luxury furniture for display; seeing women wearing or sun drying their pieces with all the fantasy colours would seem to be a gift in on itself, and so, a trip to the Berber lands would be wholly worth it for individuals looking to explore more about the allure of the luxury furniture. Each Boucherouite has its own personality, and are the results of the states of mind the women who designed them were in at the time of fabrication. The rugs represent beauty, strength, family, livelihood and everything that is good in society today, or at least, it's what we all individually think they do – they are still abstract works, but the genius is in the ability of them to reproduce the effect over and over again.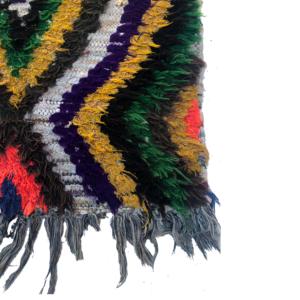 For the interested
QualityHandcraft has a gourmand selection of the highest quality handmade vintage Moroccan rugs available to bag as luxury gifts for yourself or others. You can also buy luxury handmade rugs online like vintage Persian rugs as well as modern handmade rugs and modern designer rugs from their ledger of designer rugs if you have a burgeoning desire to acquire more, however, there truly are no social limits of ownership as some homes have dozens in intimate spaces alone. There are large Moroccan handmade rugs there on the website and even petit, but cute handmade rugs that are wholly themselves in their anti-libertine style and are available for you to buy online.
Each Berber rug was discovered by rug epicureans and connoisseurs whilst they were on excursions around the globe, including the Atlas Mountain Highlands, to meet with the weavers of the rugs like the adored Bourcherouite rugs and the individuals have carefully selected the most interesting rugs in terms of the captivating-quality of their history, but more importantly, the spell-binding qualities of the design.
In the rug community, there is a lot of variety, and all this has made it a very intricate assortment of very stylish and intelligent works of art.  There are designer rugs, large handmade rugs, modern handmade rugs, modern designer rugs and even vintage Persian rugs for sale in the carpet market, and the Persian rugs in particular know how to feed off of money, and are widely considered among the most famed and expensive types of carpets in the world, however, only the traditional Persian rugs are usually priced the highest, but that's not to say that a "fun" rug like a Boucherouite is out of the conversation in those respects.
Boucherouites are still highly regarded and are well known to be of extensive value, and the appreciation for the rugs – a lot of it coming from it being an underrated rug — drives the premium price point of Boucherouites. It's not a coincidence that videos about acrylic paintings get millions of views online, those abstract artworks are really special, and are telling that there is more to the allure of Boucherouites than one might experience after analyzing the chaotic rendition of colour.
In rug land, there doubtlessly is a rug for everyone, and in rug land there is everyone so there is undeniably a lot of rugs there. For most people, the problem isn't really about finding the rug that ensnares the individual, its more about ensuring that you find a rug that you connect with always, despite having a future where you find something more attractive – the rug they want to buy is something they want to love forever, and the Boucherouite might not be for the many without the proverbial "third eye" – the ones that see beauty even when it masks itself as chaos. And so, for those that find something to love, and cherish for eternity in a Boucherouite, tread lightly here as well in eternal razzmatazz because not only is the rug utterly unique, so is you, and it would only be fitting it the two of you were paired together as you truly are a match made in carpet heaven. These Amazing Handmade Rugs have been associated with a perfect setting with your Luxury Furniture.
Those ideas aren't explicitly described by the rugs; individuals arrive to those conclusions by themselves, and in so doing lies the power of the rugs to help individuals create their own stories, rather than have them told to them. It opens up an air of exploration about who an individual is in the world, and where exactly they are supposed to be headed, and for many, that is of more importance than knowing about all the bad and good happening around them – it allows them to focus on being themselves, and that is something a lot of people need to have at the moment.
AZILAL RUGS
"I can't see the logic in medicating a grieving person like there was something wrong with her, and yet it happens all the time… you go to the doctor with symptoms of profound grief and they push an antidepressant at you. We need to walk through our grief, not medicate it and shove it under the carpet like it wasn't there."
― Richard Wagner, The Amateur`s Guide To Death and Dying: Enhancing the End of Life
The way carpets and rugs (movable carpets) of designer importance in terms of expression and tonal composition have become a symbol of forgetting experiences in the eclectic palatial, impoverished, tornado-touched, compact and all other bohemian homes of society is a special kind of happening in the sense that it makes little sense when taking into consideration what the deftly fetchable carpets and their fluffy rug forms stand for and mean in the art world.
Symbolism and how it is a Staple for Azilal Rugs
Azilal Rugs are a staple in the high-class Moroccan market in the sense that the rugs alone have the ability to encapsulate so much of what is considered to be of value in an artwork from the wizened Morocco which goes to define their qualities of being luxury furniture all in terms of it being an addictive touch and it being an illuminating and jolting one. Its bold designs have perhaps transcended its status into all major reaches and trenches of the globe to realize a new kind of value that can be attached to these products; universal high regard in more than just material worth of fun and pillowy textures, but in the things the products have to say, and the products do have really big things to say.
Each rug is designed with ideas of ensuring protection of the body and spirit, and so each is designed to represent the things it was specifically meant to represent to bring about proliferation and more personalization for the finicky consumers and that really plays a big part in opening up the worth tank to realize a bigger value for the luxury furniture. The red shades denote strength and protection, the true blues denote wisdom, the fervent yellows connote eternity and the greens symbolize unity and prosperity. The Berbers, the early members of the ancient Moroccan kingdom weaved rugs, sometimes like straw, other times like sewing clothes to tell specific stories and statements using symbolism.
Typical symbols used included confetti, squares, X-shapes, and dash marks which are male motifs often at the corners and enclosed the female motifs. X-shapes for example feature metal workers of which a majority are male blacksmiths. Birds are also often featured and they resemble a cross made of intersecting rectangles, said to carry baraka, a sort of divine power that is believed to expunge and ward off misfortune. Surprisingly, cocks could be featured as well, the two-legged figure with a high neck and tail urges prayer and announces sunrise, in some representations evokes Christ's resurrection which is interesting because Morocco is largely a Muslim country and that alludes to there being a lot of big history in play.
Dragons, cheese boards, eyes and noses are among the more popular designs that appeal to customers who are already deeply entrenched with the Moroccan culture because of their allusion to there being supernatural entities at work. Existing are symbols like cheese board being illustrated as hairy triangles containing many alternating dark and light strand-made triangles in a check pattern which refers to dizzy spells and celestial experiences, maybe religious trances; the 'S' attributed to the dragons' shape connotes a figure guarding treasure and symbolizes positivity and wisdom; snake and fish skeletons (an aggregation of four vertical designs) represent a holy person with magical and medicinal skills, and the eyes (as mineral patterns like diamonds) symbolize protection against the evil eye, suggesting it makes evil elude it in multiple dimensions because it sees it for what it is and snatches the shadows of ignorance where it works most powerfully; in secrecy and with no shadow work at work.
For many psychologists, there is wisdom in what the eyes symbolize as in it helps individuals truly point out and remind itself that there is something fishy going on in your life and possessing the rugs makes an announcement that you'll never forget and that means you'll never stop feeding intellectually from it. And it is here in this useful area where societal input disappears and introduces a more honest take that rugs are not things we can sweep under rugs anymore, and for Azilal rugs, that becomes an illogical act in on itself as they exist to remind you of how material value can assist beyond the measures of pleasure, but into more mind-morphing therapeutic scenarios you will benefit from immensely.
"The wolf rolls out red carpet, remnants of Red Riding Hood. (Le loup déroule le tapis rouge, – Ce qui reste du Chaperon Rouge)"
― Charles de Leusse
Being more open about Azilal rugs, the vintage rugs born in the Moroccan provincial capital, Azilal among other luxury furniture. They are often seen as wildly genius, vibrant works of floor art, sometimes used as wall hangings to display the rugs because of their very premium price points and artistic informative qualities that no individual who understands the true value of the rugs ever wants to lose a clear picture of. The pixelated textures connote a tribal, yet messy presentation of an artwork that tells big stories. There are stories there, good ones; old ones, ones with grand and eye-opening universal truths with seconds in realizing, others with compelling insight of major life events made visceral from centuries of bonded experiences of individuals, families and tribes.
Azilal Rugs and the Power They Hold Today
"The worst to ever happen to a person who aims at the sky is to fall on the tallest mountain; the best that can happen to a person who aims at the ceiling of his room is to fall on the carpet of his floor!"
― Israelmore Ayivor, Leaders` Watchwords 
Over the course of the twentieth century as western countries began holding the bigger slice of the economic powers of the world, the Transatlantic Trade introduced Moroccan Berber rugs as well as other similar products like the Persian rugs to Europe and the carpets started being recognizable in the West overtime as the trade fired up in the 16th century through the 19th century. Skipping on the firm grip of clothing around the neck for a more open and expressive presentation of art, the popularity exploded and the fur coats began to die as those that kept them for the unique patterns found new wealth, almost like how observing pink gold would feel like for many who found interest in the new patterns weaved on Azilal rugs. Only in the last decade of the twentieth century did the luxury furniture become regarded vehemently as "Azilal rugs!" in many Western homes of the European settlers because of the Middle Eastern and North African immigrants that introduced them to it and the tradesmen that brought it to the European nations during the height of the Transatlantic Trade.
The Berber women of Morocco used the sheep wool bred in the Azilal Province and the local natural dyes used, such as those made from plants, fruits and spices like indigo, bloody-brown colo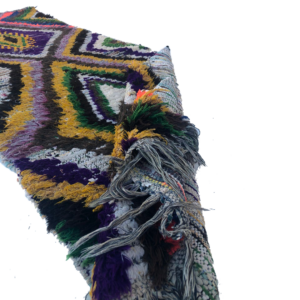 ured henna and the dark reds of cochinea which are very popular products in the Middle Eastern with uses being extensively broad, like as temporary tattoos especially within Muslim women communities at the time, and the tradition lives on today. The colours are typically woven onto a naturally white-wound wool base and they give a subtle psychedelic effect to bohemian styled interiors because of the severity of expression in those colours. Certain colours represent certain information for people, and that's a fact the Berbers who made the luxury handmade rugs know well.
Azilals are similar to Beni Ourains, also a kind of Moroccan vintage rug, in the plushness and heavy pile of the texture. Where they differ is in their colours where the Azilals attempt to make statements from its thought-provoked designs with vibrant colours like those used in Boucherouite rugs, the Beni Ourains skip the symbolism and opt majorly for an attractive design which is often minimalistic, asymmetrical and widely monochromatic. Though the Azilals do the latter well too, they have a lot more movement and structure going on in their composition which impedes minimalism.
Each Moroccan Berber rug truly does tell a story, it truly does go to highlight the most important moments in history over the ages and they really are universally that honest. Native Berber weavers of the past were often isolated in remote areas and had no standardized written language, so they told their stories by weaving and poking into wool, eventually perfecting the craft and making it a thing so fragile, in the sense that, when damaged, it's like a piece of life slashes itself from you and those rugs are wool and wool is susceptible to damage. It is no surprise as we can wear out our own wool-wound clothes over time. The transference of symbolic glyphs and markings knotted into Berber rugs is reminiscent of the early cave paintings and rock figures of the past like those found in Kondoa Irangi whose disjointed figures and diagrams remind of the chaos of the dimension-twisting forms of Azilal rugs. If you are looking for Luxury Furniture there is no better place to start than with these Amazing & Beautiful Handmade Rugs.
Berber rug weaving is traditionally a woman's role, and the rugs often symbolize women's societal and biological activities. The themes around what goes on in the communities, such as growth, fertility, birth and the protective love of men. Other weavings convey an ancestral awareness, a spirit of oneness and prosperity by channelling ideologies of superstition like grimy or benevolent supernatural influence or presence and imposing their visual renditions of the ideologies on bare, unrationed wool. In fact, many Berber women believe that completed rugs are imbued with a spirit, and they refuse patterning and blue-printing their expression so as to express the dynamic nature of the spirits they believed to have entangled in the rug.
Even the unrationed wool, still freely movable in the wind, is said to have mystical and protective powers. The rugs' organic rare colours from expensive products saffron, indigo and madder root dyes each have something to say. Red represents strength and protection, green, peace, blue, wisdom and yellow, the eternal. These colours are used to protect the rug's owner from negativity that each ensnared spirit in an Azilal rug is good at eradicating. For untold eons, Berber women have woven an ancestral presence and wisdom into their rugs and used them for flooring, saddle blankets, cushions – and their final burial shrouds as some of the most powerful sacraments to gift a departed soul so that they can prepare for the vapid or buzzing afterlife, though overall, they're left safe.
Berbers are an indigenous people of North Africa who have lived and died in the frigid mountains of Morocco for centuries. The origins of their carpet weaving can be noted to be as early as the chaotic dawn of human existence itself, the Palaeolithic era. The humbling deserts of the Sahara required more light-textured and flat weaves of the Azilal luxury furniture, but the frosty and often wind-swept Atlas Mountains required piled on, bulky weaves to be used as bed coverings instead of blankets and they were even as bed mats. Knowing about the size of the rugs and the amount of wool put into it can be telling of a lot about where it was made and the journey it took to getting to you.
You can help yourself conclude where the Azilal luxury furniture from Morocco were made by their looping techniques. Rugs with large loops and looser knots were likely to have been woven in the mountainous regions because this design allowed them to protect people from the cold temperatures using the same techniques used to make blankets because air poorly conducts heat. The hooped and looped designs are exemplary, have a gander!
Rugs that had stringier weaves we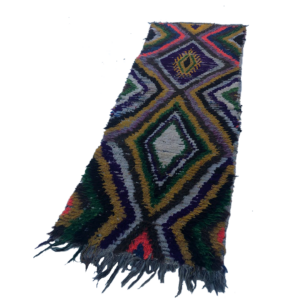 re usually meant to sleep on top of instead of to keep you radiating less heat. The Southern Berber tribes like the ones in the Jebel Siroua region of Morocco have always been regarded to have the most well-crafted weaves. Moroccan rugs and carpets from this region are made with different flat weaves and textile mixes to create unique designs and textures that help individuals adapt to living with their rugs in their native environments.
For the Azilal Rug owner
"They would sweep their poverty under the carpet if only they had one."
― Ljupka Cvetanova, The New Land
Azilal rugs are among the most expensive luxury furniture, we know; that's why you need to be prepared to make it stay expensive when you get one that you feel really relates to a major viewpoint of your collective perception.
Getting the Most out of Your Azilal Rug and Other Moroccan Rugs
Stay mindful of the art on your floor by moving it around and changing its position often, the back is just as attractive as the front, and so this can really magnify the feelings you have attached to the rug.
As the Azilal Berbers believe, the wisdom and elegant design imbued in the luxury furniture reflects the women weavers in the sense that those things only get better with age. The maturing process allows the softening of the heavily tinged colours and the wool because of the natural lanolin oil in the wool which creates a more attractive final appearance which has a polished purity and overall neat quality to it that looks like it was made by strands of coloured paper with a bit of grating to it.
The fading colours, variations in line thickness (the bumps and inconsistency in girth), asymmetry of the composition, and unusual boundaries (edges marked by different designs and often different methods used to weave wool) in many Azilal rugs are indeed some of the factors responsible for the high fetching prices of many of the luxury furniture, so the blemish on your rug could add great value, however not all blemishes are noted to be of value and certain ones might signal damage and not the historical infliction and artistic choices art experts say to be the beacons of value.
For the Interested
QualityHandcraft has the loveliest selection of the highest quality handmade vintage Moroccan Azilal rugs available to buy as luxury gifts for yourself or others. You can also purchase handmade rugs online like vintage Persian rugs as well as modern handmade rugs and modern designer rugs from the list of designer rugs. There are large Moroccan handmade rugs and even smaller handmade rugs you can buy online. Each unique piece has been discovered only by traveling around the world, including Azilal region to meet with the weavers and have been hand-picked for their interesting backgrounds and enlightening messages weavers intend to introduce to the minds of others in an attempt to ground them in all the ways they've learned how from generational teachings to personal life stories, experiences with death and mortality, expressions of beliefs, appreciation of the good and the ways they pushed through major life events and emerged standing; still going strong and doing very little wrong.
The carpet community is large, there are large handmade rugs, designer rugs, modern handmade rugs, modern designer rugs for sale and even vintage Persian rugs for sale which are among the most expensive popular type of rug in the world, however only the traditional Persian rugs are fetched for the highest prices and the Berber Azilal rugs are close in price to these because of the tradition factor.
From this standpoint, the rugs take on a new kind of life, a life in which they dissolve the sins of society, language and culture which insinuate they are something so ordinary that can be used to suggest forgettability into something that encapsulates meaningful history and expresses itself across centuries as a thing of high importance with a high price point; echoing infinitely that the Azilal rug is not a thing that should be swept under the rug to both the eclectic consumers and lay people as well.
 Vintage Still Strong in the Digital Age
There are many vintage rugs of vastly different variety available to purchase, and Moroccan rugs really seem to be one of the rugs dominating the rug species currently on the market as art pieces that you can take home and snuggle with however long you want. It's really a lot of stuff, and often people are shocked at how much variety and impressiveness is available in this really vast crunch of unique products circulating the home decor market, and even the high art market, really — some rugs are priceless assets that have been owned by some of the wealthiest and famous individuals of all time. Take carpet-seller Amber El-Amin's carpet collection for example. Those luxury furniture are priceless, chic and look incredible in her home's rooms, and although there are other luxurious goods to tie her rooms together, the rugs do a lot of good work with pulling off the vibe. Ownership status is great for the value of rugs, and can really help sky-rocket the price of these rugs — such that, when they're resold, they cost staggering amounts of money.
NFTs represent some of the fears that have arisen and burgeoned in communities and spaces where tangible art is adored. With the digital age seemingly taking over at really fast rates, it is a very real issue when material value isn't what is of worth. It's all about the visuals these days, and that is why paintings are thriving in the digital landscape without much trouble, but more physically appealing products like sculptures are met with less demand. Take the astonishing works of Simon Cowell and Irina French as artists who are getting much success with digital art as examples. Luxury furniture will need to find something that stabilizes their relevance.
Soon enough, history might be a bigger defining factor of a painting, and not ideas, and the extent of usability is the only way that they can ensure they stay as relevant and valuable as possible. Remember this, unless it's something you need, you won't really care about something you lost last year that much, but you'll cherish that which you lost in 2008, and maybe you'd make something you didn't know in 1369 more valuable than anything else you own because that's something special. In that way, not everything is special, something needs to change, we need to find a way to make everything valuable, or we'll have to enter a world where we need to struggle to be treated as important.
The craftspeople responsible for Moroccan rugs did struggle because they do know this truth, and the fact that those rugs are in many posh homes today, many surely are in the houses of the people who own NFTs. It's important to remember that earning a right to be of value is a contributor of great value because the value-game is rigged, and that means that Moroccan rugs are a triumph unlike all else because our values of the past are being replaced by the digital world, but should we really be ready to discard one art form because there is a more convenient art form outside the one we want? Is it possible that an artist outside the digital world could have used the digital world to make something valuable as well, and succeed? The best consumers could do is give artists the dignity of being contemporary, even if they're vintage.
Surely Moroccan rugs are famous for some reason you are eager to know about, and simply, that broad attractiveness stems from the unreal variety of Moroccan rugs and all the special stuff in t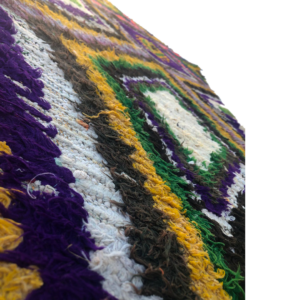 he design that they have to offer. Many regard Moroccan Handmade rugs prefect as Luxury Furniture.
Moroccan rugs can be classified because the luxury furniture usually have themes that are really indicative of the Moroccan rugs brand, and is the thing that creates much distinction that defines the differences between one species of rugs from another. Moroccan rugs will never be Persian rugs, and that is why a person can like one species more than another, and for a long time, that has been the sole law automating the governance of the art-consumer system that allows for the luxury furniture to come to prominence as individual pieces — with an extreme focus on improving on a style — and not trying to be what it's not. This has pushed creativity forward.
Vintage rugs have an inkling of taking inspiration from Venn diagrams as it is common to see some unique Moroccan luxury rugs take inspiration from other Moroccan luxury furniture that are already in wide-spread existence. These luxury furniture offer a unique mix of characteristics that are unique to Moroccan rugs and are utilized in a manner that's original but different enough to offer something captivating that can draw new blood into the consumer circles, but can also manage to keep the people who always enjoyed Moroccan rugs ready to explore more of what they can purchase.
The Beni Boujads are often considered to be the magnum opus of Moroccan rugs because they really do utilize the Venn-diagram feature of Moroccan rugs to create a line of rugs that extensively takes inspiration from other kinds of rugs to create something that is more consumer-care forward. The rugs are smothered with colour. Often, beyond the visual designs, the value of the luxury furniture is determined by the number of knots per unit area. Those with larger knot counts take longer to make and are regularly of more value. Beni Boujads aren't an exception to this knots rule. Beni Boujads are visual stunners, and that is because they utilize quite a lot of colour in their visual design, and that is why the colours saturate as much spaces on the rugs with colour, and that is because the craftspeople want to fit in as much of their vision into the piece as possible. Sometimes, not as much space is needed, but many more times, most of that space is utilized to create something wholly beautiful.
The vintage rugs with a Moroccan minimalistic style are among the most popular luxury furniture from the Moroccan-rugs line. These rugs are usually utilizing monochrome shades with some use of even more varied colours in smaller sections of the composition to achieve an effect that is both elegant and impressive. Take the Beni Ourains' surge to popularity. The luxury furniture are notorious for utilizing monotone colouration, and in this way, they become the perfect mainstream product because they're simply elegant and not in search for anything immensely impressive, instead they get viewed as the laid-back and cool designs that are irrespective of much of bohemian culture, and impressively so by still being able to be part of the system that makes Moroccan rugs the brand it regards itself as today.
There are some rugs that harbour a lot of attention because they utilize symbolism. This creates an opening where the luxury furniture can be encouraging something that a consumer might be needing reassurance on, and can be the things to provide the place where consumers want to pay attention. There are Moroccan rugs that are explicitly known for their obvious utilization of symbolism, say the Azilals, and they seem to thrive with consumers looking to discover something about themselves by adopting bohemian culture. That is to say that the irregularities of bohemians might be a self-reflection where there is not much linkage with the mainstream.
That cleavage means they get to learn so much about themselves without the interference of the roaring markets, and they develop and possibly arrive at a place within themselves where they get to live their ideologies in the tangible world, where descriptions are no respecter of locale.
There are some rugs that really take the idea of abstract art to the next level. They create a whole culture around the importance of inclusivity and the fact that beauty and big value can be found in some of the most unexpected places.
Boucherouite rugs are a colour fantasy, and really, no one would dare roast these because they seemingly carry so much heart and love in their abstract designs that it shocks people how random patterns can be so moving that they evoke feelings of emotional-unity. They are often super messy, so don't expect anything like minimalistic rug, really know that those kinds of rugs are utter opposites, and you'll have a great start at finding the rug you're looking for.
Urban Carpets are a beloved entity of its own. These knots are adored because they encompass so much that meets the expectations of those in favour of contemporary ideals, and that just happens to be a majority of the global population. Urban carpets are usually taking the form of styles of vintage rugs that are very popular and they often have a twist to them that makes them super trendy and pro-creativity. The Beni Mrirts are the newer style of Moroccan rugs that embodies all the major urban carpet features.
Vintage Moroccan rugs are the luxury furniture from Morocco of origin in the mid 20th century and are renowned for their beautiful and unique approach to patterning and weaving to arrive at bold art works.
This has made the products among the most defining of the modern carpet world, but also the vintage carpet world because they do take inspiration from a lot of what was trendy in the past and have improved on all the things that make the rugs such people-drawers. These rugs are often fabricated to last a really long time. They can last 25-125 years, but that depends on how well they're taken care of, and each rug requires a different process. Often, the vibrant colours age into pastels that are just as pretty, if not better. The luxury furniture that are with visuals that are getting more pastel are usually priced higher because of this.
In a world where the digital landscape is a thriving phenomenon that keeps on attracting more and more people towards it and away from tangible value. People are learning how to not live with clutter, and that can be something of contention to luxury tangible goods because in the modern world, something real and tangible isn't essentially something that has worth, and it says a lot about where beauty lies — it is no longer either with the object or the beholder, but it is with the person with the power to control a conversation. This whole dynamic raises issues on whether beauty and art need to be defined or whether the gamble to trust that to be a decision of things can be made by other for others. It is important to take part in a conversation, and to fight for what you believe to be right because enabling is essentially taking power away from the things that are of value to you the most. This is essentially why cheating is so frowned upon in the art industry, it doesn't allow for transparency as other voices that had the right to speak suddenly lose their ability to influence. Moroccan rugs have found an interesting way to deal with this dilemma.
Consumers' Section
Vintage rugs have always been popularized because they come in stunningly different varieties. The broad variety has allowed the luxury furniture to amass a large number of rug-lovers because there is something for everyone in the assortment of luxury rugs. The best way to experience the rug community is by finding a place where rugs are sold but includes the right amount of variety with a great selection by a person with superb taste, and it all comes together to create a cool vibe of the luxury furniture' assortment that can make exploring the rug communities, symbolism around them, and their history an exciting excursion for anyone looking for something fresh to value.
QualityHandcraft has a humungous selection of the highest quality handmade vintage Moroccan Berber rugs available to purchase as luxury gifts for yourself or others. You can also buy luxury handmade rugs online like vintage Persian rugs as well as modern designer rugs and modern handmade rugs from their assortment of designer rugs if you have an unquenchable desire to acquire more, however, there truly are no social limits of ownership as some homes have dozens in intimate spaces alone. There is a huge number Moroccan handmade rugs there on the website available to buy, and even baby-size, but cute handmade rugs that are wholly themselves in their anti-libertine style and they are available for you to buy online.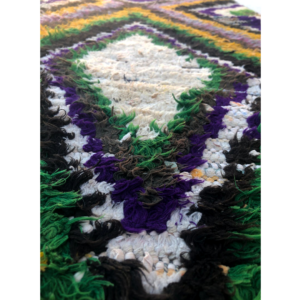 In the rug community, there is a lot of to choose from, and all this has made it a very overwhelming process because many find that they have a hard time choosing the perfect rug for them — of very stylish and intelligent works of art. The solution offered is for them to learn about all the different types of rugs available for purchase before they go shopping. There are designer rugs, modern handmade rugs, large handmade rugs, modern designer rugs, and even vintage Persian rugs for sale available, and the
Persian rugs in particular know how to acquire the largest price tags, and are widely considered among the most famed and expensive types of carpets in the world, however, only the traditional Persian rugs are usually the most expensive, but that's not to say that other kinds of rugs don't deserve any love. Status doesn't equal value and you might be shocked about how some rugs might be of more value to you than Persian rugs — well that's for people who don't care about status, and if that's you, Moroccan rugs are something you absolutely need to look into.
These one of a kind Rare & Vintage Handmade Rugs from Morocco will stand out next to your Luxury Furniture made by some of the best Artisans in the world that will bring delight & history to your home.
"You Only Expect Greatness" Buy Now
Additional information
| | |
| --- | --- |
| Actual Size | |
| Age | |
| Color | |
| Sizes | |
| Color Family | |
| Colour Family | |
| Condition | |
| Country of Manufacture | |
| Custom Collection | |
| Size Range | |
| Design | |
| Pattern | |
| Pile | |
| Foundation | |
| Rug Type | |
| Style | |
| Shape | |
| Knot | |
| Weave | |
Rotate your rugs frequently to equalize the damaging effects of the sunlight. Continual direct exposure to sunlight will damage a rug over time, use window shades, shutters, or heavy curtains to safeguard your investment.
Protect your rugs from Fumes and Dampness from furnaces, stoves, chimneys and auto exhaust can mix with humidity in the atmosphere to form an acid that fades and deteriorates the appearance of wool. Over time, dampness will rot the threads and destroy the fibers of a rug. Keep them in a dry environment.
Wear and tear If a rug is cut or torn, have a competent person repair the damage as soon as possible. Holes can expand very quickly and ruin an otherwise repairable carpet. With ordinary use, the selvage edges tend to fray as they are not as compressed as the rug pile. Worn edges can easily be re-darned. Fringes can be replaced. Worn or damaged areas in the middle of a rug can be re-knotted. Even large holes can be restored.
Moths can cause extensive damage to Oriental rugs; however, a carpet in normal use is rarely in danger from moths. Frequent rotation and regular exposure to light and air usually keeps moths at bay. Eliminate these pests and safeguard against their return by spraying the front and back of a carpet every six months with moth spray.
Padding an Oriental rug the life can be doubled with the use of good-quality padding. Padding protects the rug, especially in heavily-trafficked areas. The best padding is made of hair or fiber with a rubberized surface to prevent moving and wrinkling. Avoid synthetic pad that takes on the appearance of rubber as it turns to an abrasive powder after several years.
Cleaning The beauty and life of Oriental rugs are vitally dependent on their cleanliness. Lack of maintenance will contribute to loss in the potential investment.
Sweeping the rug with a broom at least once a week removes loose soil and brings out it's natural sheen
Beating is one of the best methods for cleaning a rug. It should be beaten several times on each side, always in dry weather.
Vacuuming Try to use a low suction level and a new bag. Never vacuum against the nap, as this presses dirt back into the rug. (Run your hand across the pile from fringe to fringe to determine the direction of the nap.) Do not vacuum the fringes. The suction of a powerful vacuum cleaner can tear the fringe.
Washing Oriental rugs should be washed every three to five years, depending on their use and the amount of traffic they endure. Using steam-cleaning or chemicals on an Oriental rug removes the natural oils from the wool. The pile becomes brittle, and the carpet wears out sooner. Do not, unless absolutely necessary, submerge an Oriental rug in water. Surface cleaning is usually all that is required.
Crushed pile Revive carpet pile that has been crushed by heavy furniture by brushing the indented area with a soft brush. Moisten with a spray bottle, and brush again.
Storage If a rug must be stored, it must be inspected regularly. To store a rug, wrap it in fabric. An Oriental rug needs to breathe. It can rot or mildew in plastic. A rug can be rolled up and stored in a chest with some paradichlorobenzene crystals, which make the wool inedible to moths. DO NOT lay carpets flat on top of one another for any length of time. A rug stored in a damp or humid area will mildew, which discolors and weakens the fibers. A hot or poorly ventilated storage area will dry out the base of the rug, making it brittle, destroying strength and durability. If you act immediately, you can prevent virtually any spill from becoming a stain.
We always recommend that you use a Professional Rug cleaning Service as a safe guard in protecting your Rug.
Shipping & Returns Guide
– We provide Local, Nationwide & International Shipping via DHL / UPS with a delivery time of 5 to 7 days from our suppliers in Morocco subject to availability.
– Customers are liable to any import or customs duties on arrival of the rug in their country. Please refer to our Refunds, Returns & Exchanges Policies section for further details.
– You will be responsible for all return shipping costs with the same courier you received the rug(s) with.
– In case of a return, you are liable to pay 5% re-stocking fee for internal company expenses such as handling, accounting, banking and other associated expenses.
– We operate on very low margins, hence we do not encourage customers to adopt a """"buy to try"""" approach.
– If you receive a damaged item, QualityHandcraft will assist you in receiving a replacement or refund as quickly as possible – at no cost to you.
Reviews

BETH
Found this stunning Vintage Moroccan Rug – Absolutely Beautiful – Packaged well & arrived few days earlier – EVEN BETTER

Paul
Quirky, unique, cool…. Quality is good if you are looking for something different – Exclusive Premium Tamegroute Pottery – Petit Bol Abord Brun with Designer Copper Rim – 30% More Highest Quality Green Glaze

Joan
Lovely bowl arrived today! Love it. Thank you for the awesome packaging!

Clare
Beautiful handmade vase that looks fantastic in my room – Unique Elegant Handcrafted DEUX OREILLES SURAHI Tamegroute Green Glazed Pottery

Sara Kidd
Absolutely stunning! Even more lovely in person. Super fast shipping and my order was packaged so carefully and thoughtfully. Thank you!

Nesrine
Looove it! Super fast shipping

Summer Rayne
Arrived safely and in great condition.

Kaisa
Thank you so much for the beautiful bowl. It is just perfect. And thank you for the lovely gift. I really love it.

Molly
Super well packed, feels heavy and solid in your hand. Color is especially lovely. Would order again.

Lara
After many weeks of searching, I found this lovely rug, I asked the seller for more pictures and they were kind enough to send me a video of the rug from a few different angles. Beautiful colours although a bit lighter than the photos shown. Overall fantastic quality and super fast shipping (it actually came a week early), just wish it was a little darker.

John Sullivan
These guys have been absolutely outstanding. Perfect and the best of all that you have many options to choose! Best Support team ever! Very fast responding! Thank you very much! I highly recommend this theme and these people!

Danielle Gregory
Amazing Customer Support – very good, no waiting around. Immediately solved my problems and answered my questions when I needed help. Are to be congratulated.