-10%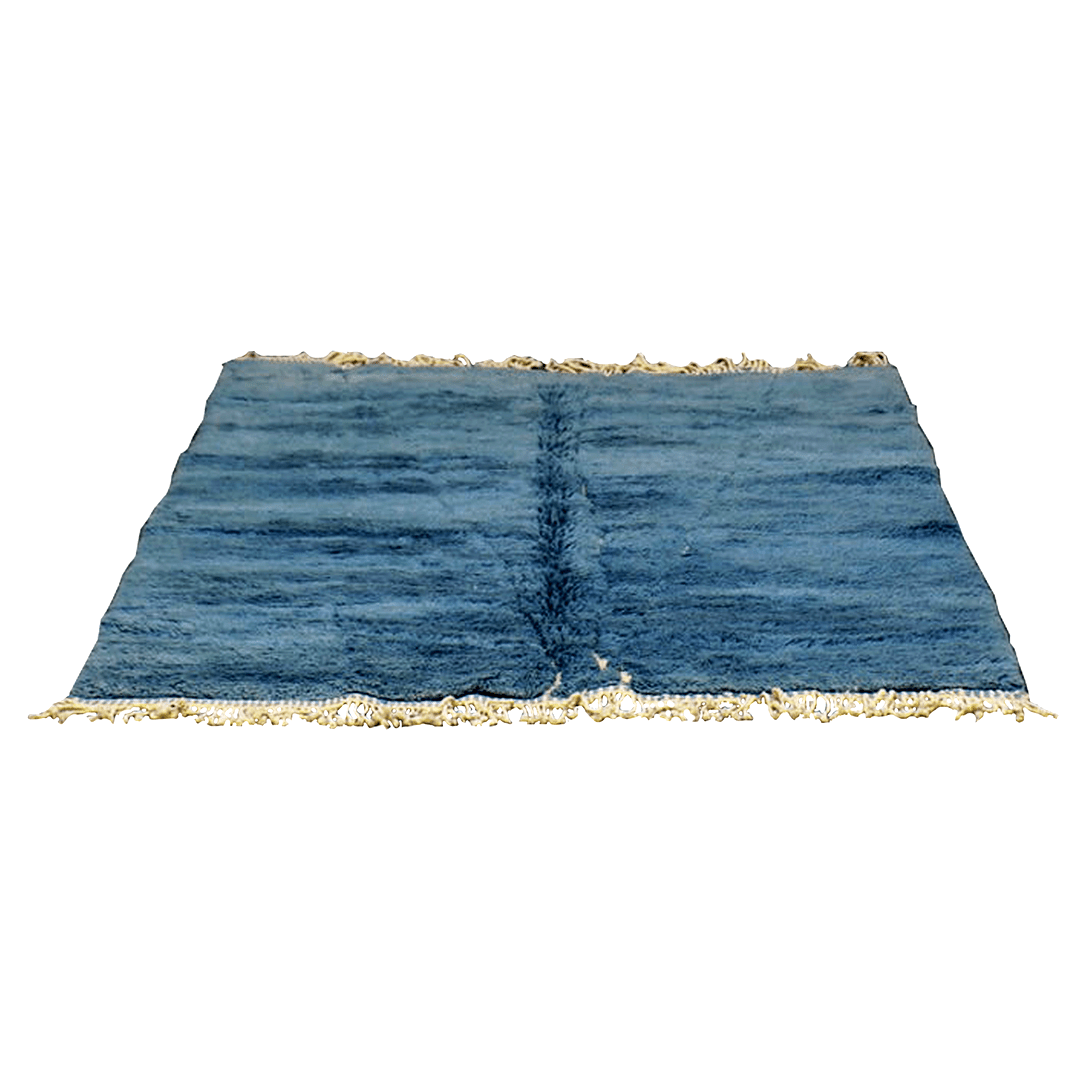 VINTAGE BENI MRIRT MOROCCAN RUG – 666110
Description
If you are looking for Luxury Home Decor Online with Aspiration, Self Pleasure, An Amazing Story, Personal History, Aesthetics, Premium Quality, Individually Handcrafted by some of the best Artisans in the world not mass produced & Conspicuousness – Read on
In the memorable territory enveloping the cutting edge country of Morocco, the custom of carpet making is just about as old as it is anyplace on the planet. The early selection of mat making by local Moroccans is positively due in extensive part to the particular atmosphere of the area: Moroccan floor coverings might be exceptionally thick with a substantial heap, making them helpful for the snow-topped Atlas Mountains; or they might be level is woven and light as to suit the hot atmosphere of the Sahara desert. The traveling Moroccans and Berber clans utilized these heap hitched, and level is woven covers as bed covers and resting mats, just as for self-decoration, and entombment covers. A portion of these floor coverings was likewise utilized for seat covers. The structures that most regularly show up in Moroccan floor coverings are conventional and antiquated, go down from weaver to weaver.
"Art, freedom and creativity will change society faster than politics." – Victor Pinchuck on the space which art situates in governing.
Beni M'rirts are among the newer styled Moroccan wool rugs for Luxury Home Decor Online drawfing the market for other products, and their emergence into the public eyes has not been something completely of shock-factor. They are hard to find, and the price points doesn't ease things in any way. Berber rugs of the Beni genus are some of the most sought-after luxury goods in the world, and as far as value goes, they're not lacking because they're a contemporary breed. Being a relatively new style of Moroccan wool rugs, the rugs lack the qualities that most vintage rugs attest to being the main draw of value – nostalgia. Nostalgia is a bohemian's selling point, and assuming that you're one of those eclectic bohemians as well, it ensures that the product delivers on design unconventionality among other renegade factors driving the appeal of the product to you, the nonconformist consumer.
Beni M'rirts as a Statement
The existence of a contemporary Beni rug reads far from ritualistic because Beni rugs can't be labelled as conventional any day of forever. Being a Beni rug can make the luxury good feel more like a Beni drug. This can be mainly attributed to the fact that when the products are put to test outside their bubble of influence, they indent the market world so profoundly each time that it wouldn't raise any eyebrows of the keen observer when they hear that the Beni Mririts are being sold as contemporary alternatives to an otherwise vintage line of products. This attests to the humungous dynamics that these rugs are capable of imbuing into the art-trade landscape, and is something many consumers should be contemplating — the societal value the rugs possess, but moreover, the prospective price of the rugs; solely because of what it means for a rug like the Beni M'rirts to be sold at such fetching prices at this current framing of market dynamics.
Beni M'rirts Imbued
 "The art of a people is a true mirror to their minds." – Jawaharlal Nehru on why artworks are unique to individuals, and even more so, communities.
Beni M'rirts are handmade luxury goods carpets mended using traditional Berber knotted-weaving techniques, with a thick pile, and lauded local wool which is smile-boosting soft to the touch. Their natural wool is ivory in colour, and they feature noticeable geometric patterns with zigzags, triangles, check patterns, and waves being among the most common patterns you can strip from a Beni M'rirt; and are nothing short of fashionable in the hip-world. A Beni M'rirt is a popular choice for custom made rugs as they offer the traditional Berber handwoven look and feel but with a customer's choice in design – there is a lot of variety to the Beni M'rirt, and that means that there is something for every kind of rug-loving customer out there. If you're still reading, that goes especially for you.
The design of the luxury goods is wholly purposeful and the composition of the rugs uses simple patterns which are attributed to detail, description, or reference to something else in nature or even metal constructs not tangible. The zigzag, as an example, represents a mode of travel, but also represents the water streams. This opens up a world for academics to settle around the politics of the rugs as they become something that can be learned, mastered, and possibly understood as there is as the language they use is far from random, but extensively intricate. There is order in the production process, and that is something that art collectors should be intrigued by and appreciative of as these rugs take inspiration from other rugs that have been around for a while, and that kind of discipline in a craft is a rare find in luxury goods. These Amazing Rugs have been associated with Luxury Home Decor Online.
Another popular find on the luxury goods is the illustrated beetle. The beetle is widely considered a symbol of protection against evil, and many say it to be an evil eye, however, what exactly is meant by "evil eye" is something that only people closely attuned to Berber culture can discern. Other diagrams include the teapot, and it is about the comeliness and friendliness of the Berber inhabitants of the territory. Butterflies, flowers, or stars symbolize feminine beauty and are among the more popular and prominent depictions on the rugs. There are twigs as well, and they express green life and other vegetative lifeforms. The palm tree and the camel indicate the sufferings and the patience of the Berber woman. They are widely considered to be symbols that demands respect as they are tied to the hard work that the Berber women have put into helping the Moroccan territory and its products be a topic of discussion for its many good qualities to this day.
Birthplace of the Beni M'rirt
Beni M'rirts have established themselves in the public eye as a refreshed version of the otherwise vintage rugs of the past, all known as luxury goods, but with the Beni being cited as a new kind of rugs from Morocco, made with improved skills from local artisans, as well as improved production values and material sources. Women still widely dominate the production process of the Beni M'rirts, and it's fairly so because the Moroccan women do spend the most time refining their weaving skills, and have passed down the knowledge they've aggregated about weaving for centuries to their offspring.
Beni M'rirt is a city of the Middle Atlas in Morocco, it is a municipality of the province of Khénifra. It owes its urban development widely to the presence of mineral and fuel resources it extracts at Jbel Aouam, Inghram Aoussar, Sidi Ahmed, and Tighza which include lead, zinc, silver, gold, and tungsten. The sales of the products launched the territory as a trading powerhouse and that all has made it possible for the luxury goods to be the cultural phenomenon they are today, even matching up in value with some of the more vintage rugs with more historical deftness attached to them. This is of significance because a lot of value is placed on Berber rugs precisely because of their historical significance. The territory's productivity can be traced as early as the European Middle Ages. The city of M'rirt has long been a place of passage for most traders, but other kinds of travelers as well, and this has led to the broadening of ethnic diversity in the territory from SubSaharan Africans to Amazighs to Arabs.
Like the Azilal rugs, Beni M'rirts do utilize symbolism, however, the symbolism of the contemporary rugs is extensively contemporary and is in respect to the current zeitgeist in the Moroccan territory, however, there are odes to the past, or rather insinuations that not much has changed from the past as certain rugs ascribe to the presence primordial fertility cult, originating from remote early civilizations, and to which many art commentators have said to provide an interesting take on the politics present in the Moroccan territory, possibly wholly unique and possibly playing out as early as currently. There is no other form of artisan art in which ancient symbolism remains a very prominent part of the artworks to this day, many products have symbolism, but for many Moroccan rugs, it's what they're worldly renowned and admired for. Many owners of the rug attest to owning a specific rug because of a specific reason, and when you interview many, they say it's because of seemingly spiritual reasons, however, the individuals might not even believe in the spiritual anyway. Beni M'rirtts are a contemporary creation, and Berber rugs have been around for centuries, and so, all this is loaded with truth. If you are looking for Luxury Home Decor Online there no better place to start than with these Amazing & Beautiful Handmade Rugs.
The intrinsic design of almost all Beni M'rirts showcases maturity in the simple pattern embroidered. No zigzag is just a random zigzag with these luxury goods, and in many ways, the self-aware quality of the rugs drives its value sky-high, as it proves that this truly is an artwork as it masterfully utilizes a unique art form with its visuals – storytelling.
Beni M'rirt Parentage
"What art is, in reality, is this missing link, not the links which exist. It's not what you see that is art; art is the gap." – Marcel Duchamp on the possible reasons as to how art can make statements without raising conflict.
Beni M'rirt artisans take inspiration from the broad gallery of Moroccan Berber rugs already on the market, and from others that have been on the market for centuries. They are a blend of the most attractive features of the other luxury goods, and thus, they form a hybrid rug of unmatched beauty. Whether it be between a Beni Azilal and a Beni Ourain or a Beni Azilal and Beni Mguild, the combined attractiveness is enough to match the value of the vintage quality attributed to the parent rugs. With this noted, it is clear that Beni M'rirts have the variety feature turned up to the max, and this is a quality many consumers can appreciate as the rugs can have qualities from multiple rugs that a consumer would have wished to have had combined in one. Many regard Moroccan rugs as Luxury Home Decor Online.
Why Own a Beni M'rirt
 The major appeal of Beni M'rirts as luxury goods is the aesthetics of the rugs, however, some have admired the design language for its intellectual maturity. Though there are many reasons to love a Beni M'rirt, the two reasons stated dominate.
To most members of the public, Beni M'rirts are a reminder that in the world of art, investments rule. Berber rugs are not meant to last forever, that's just an obvious truth because the rugs aren't in some grand museum protected by buffy guards, they're at home, they're safe with you, and sometimes, they are at more risk of being damaged, and overtime, they're number will dwindle. What Beni M'rirts offer is a replacement to their dead vintage parents; as a continuation of an organism with an offspring, Beni M'rirts keep Berber rugs from losing the quality that makes them so special, and that is – a personal art work; one specifically designed to make the butterflies in your stomach excessively jumpy, and that gains it a lot of respect in the art world, and is the main reason as to why the rugs are very expensive, even though they are a widely new creation. Yes, the rugs are new, but the message could never be less of vintage roots.
For the Interested
QualityHandcraft has a heavenly selection of the highest quality handmade vintage Moroccan Beni M'rirt rugs available to buy as luxury gifts for yourself or others. You can also buy luxury handmade rugs online like vintage Persian rugs as well as modern handmade rugs and modern designer rugs from the eclectic assortment of designer rugs. There are large Moroccan handmade rugs and even smaller handmade rugs you can buy online. Each unique rug was discovered by rug enthusiasts traveling around the world, including the M'rirt region to meet with the weavers and have been exclusively selected for their interesting historical markers and symbolism; messages weavers intend to introduce to the minds of consumers in an attempt to ground them in all the ways they've learned how from generational teachings to personal life experiences.
The carpet community is large, and ever-growing.  There are large handmade rugs, designer rugs, modern handmade rugs, modern designer rugs and even vintage Persian rugs for sale which are among the most expensive popular type of rug in the world, however only the traditional Persian rugs are fetched for the highest prices and the Berber M'rirt are close to them in prices because of the way the rugs are a hybrid of many other kinds of rugs popular among the Berbers and collection owners.
From this perspective, the rugs do a lot for the rug community of Berber descent. It's not appropriation to strictly milk all of what the valuable rugs can milk from consumers, but essentially, they are present to continue that unique love for the rugs rooted in the very personal attachment consumers have to the rugs. Each rug is unique, and each rug does something unique for the consumer. There is beauty in that relationship, and the Berbers understand this well, and with the making of the Beni M'rirt, it is a proclamation that they understand the value of that relationship very well, and that is something they want to go on for longer. And so, in a precis: Our relationships with Berber rugs are special and they demand to be conserved; that's why the Beni M'rirt exists.
These one of a kind Luxury Home Decor Online Handmade Rugs made by some of the best Artisans in the world will bring delight & history to your home.
Additional information
| | |
| --- | --- |
| Popular Rug Sizes | |
| Actual Size | |
| Age | |
| Sizes | |
| Color | |
| Color Family | |
| Colour Family | |
| Condition | |
| Country of Manufacture | |
| Custom Collection | |
| Size Range | |
| Design | |
| Pattern | |
| Pile | |
| Foundation | |
| Rug Type | |
| Style | |
| Shape | |
| Knot | |
| Weave | |
Rotate your rugs frequently to equalize the damaging effects of the sunlight. Continual direct exposure to sunlight will damage a rug over time, use window shades, shutters, or heavy curtains to safeguard your investment.
Protect your rugs from Fumes and Dampness from furnaces, stoves, chimneys and auto exhaust can mix with humidity in the atmosphere to form an acid that fades and deteriorates the appearance of wool. Over time, dampness will rot the threads and destroy the fibers of a rug. Keep them in a dry environment.
Wear and tear If a rug is cut or torn, have a competent person repair the damage as soon as possible. Holes can expand very quickly and ruin an otherwise repairable carpet. With ordinary use, the selvage edges tend to fray as they are not as compressed as the rug pile. Worn edges can easily be re-darned. Fringes can be replaced. Worn or damaged areas in the middle of a rug can be re-knotted. Even large holes can be restored.
Moths can cause extensive damage to Oriental rugs; however, a carpet in normal use is rarely in danger from moths. Frequent rotation and regular exposure to light and air usually keeps moths at bay. Eliminate these pests and safeguard against their return by spraying the front and back of a carpet every six months with moth spray.
Padding an Oriental rug the life can be doubled with the use of good-quality padding. Padding protects the rug, especially in heavily-trafficked areas. The best padding is made of hair or fiber with a rubberized surface to prevent moving and wrinkling. Avoid synthetic pad that takes on the appearance of rubber as it turns to an abrasive powder after several years.
Cleaning The beauty and life of Oriental rugs are vitally dependent on their cleanliness. Lack of maintenance will contribute to loss in the potential investment.
Sweeping the rug with a broom at least once a week removes loose soil and brings out it's natural sheen
Beating is one of the best methods for cleaning a rug. It should be beaten several times on each side, always in dry weather.
Vacuuming Try to use a low suction level and a new bag. Never vacuum against the nap, as this presses dirt back into the rug. (Run your hand across the pile from fringe to fringe to determine the direction of the nap.) Do not vacuum the fringes. The suction of a powerful vacuum cleaner can tear the fringe.
Washing Oriental rugs should be washed every three to five years, depending on their use and the amount of traffic they endure. Using steam-cleaning or chemicals on an Oriental rug removes the natural oils from the wool. The pile becomes brittle, and the carpet wears out sooner. Do not, unless absolutely necessary, submerge an Oriental rug in water. Surface cleaning is usually all that is required.
Crushed pile Revive carpet pile that has been crushed by heavy furniture by brushing the indented area with a soft brush. Moisten with a spray bottle, and brush again.
Storage If a rug must be stored, it must be inspected regularly. To store a rug, wrap it in fabric. An Oriental rug needs to breathe. It can rot or mildew in plastic. A rug can be rolled up and stored in a chest with some paradichlorobenzene crystals, which make the wool inedible to moths. DO NOT lay carpets flat on top of one another for any length of time. A rug stored in a damp or humid area will mildew, which discolors and weakens the fibers. A hot or poorly ventilated storage area will dry out the base of the rug, making it brittle, destroying strength and durability. If you act immediately, you can prevent virtually any spill from becoming a stain.
We always recommend that you use a Professional Rug cleaning Service as a safe guard in protecting your Rug.
Shipping & Returns Guide
– We provide Local, Nationwide & International Shipping via DHL / UPS with a delivery time of 5 to 7 days from our suppliers in Morocco subject to availability.
– Customers are liable to any import or customs duties on arrival of the rug in their country. Please refer to our Refunds, Returns & Exchanges Policies section for further details.
– You will be responsible for all return shipping costs with the same courier you received the rug(s) with.
– In case of a return, you are liable to pay 5% re-stocking fee for internal company expenses such as handling, accounting, banking and other associated expenses.
– We operate on very low margins, hence we do not encourage customers to adopt a """"buy to try"""" approach.
– If you receive a damaged item, QualityHandcraft will assist you in receiving a replacement or refund as quickly as possible – at no cost to you.
Reviews

BETH
Found this stunning Vintage Moroccan Rug – Absolutely Beautiful – Packaged well & arrived few days earlier – EVEN BETTER

Paul
Quirky, unique, cool…. Quality is good if you are looking for something different – Exclusive Premium Tamegroute Pottery – Petit Bol Abord Brun with Designer Copper Rim – 30% More Highest Quality Green Glaze

Joan
Lovely bowl arrived today! Love it. Thank you for the awesome packaging!

Clare
Beautiful handmade vase that looks fantastic in my room – Unique Elegant Handcrafted DEUX OREILLES SURAHI Tamegroute Green Glazed Pottery

Sara Kidd
Absolutely stunning! Even more lovely in person. Super fast shipping and my order was packaged so carefully and thoughtfully. Thank you!

Nesrine
Looove it! Super fast shipping

Summer Rayne
Arrived safely and in great condition.

Kaisa
Thank you so much for the beautiful bowl. It is just perfect. And thank you for the lovely gift. I really love it.

Molly
Super well packed, feels heavy and solid in your hand. Color is especially lovely. Would order again.

Lara
After many weeks of searching, I found this lovely rug, I asked the seller for more pictures and they were kind enough to send me a video of the rug from a few different angles. Beautiful colours although a bit lighter than the photos shown. Overall fantastic quality and super fast shipping (it actually came a week early), just wish it was a little darker.

John Sullivan
These guys have been absolutely outstanding. Perfect and the best of all that you have many options to choose! Best Support team ever! Very fast responding! Thank you very much! I highly recommend this theme and these people!

Danielle Gregory
Amazing Customer Support – very good, no waiting around. Immediately solved my problems and answered my questions when I needed help. Are to be congratulated.